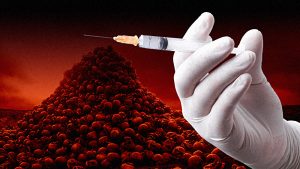 Austria is taking the next step to ensure all slaves within its jurisdiction take the shots that are obviously part of the overall agenda. Those who continue to refuse the commands of their rulers will be punished harshly, as one medical journal clearly stated was the goal back in 2020.
Medical Journal: Get The COVID-19 Vaccine, Or Be Punished HARSHLY
While the masters have not yet figured out which punishment is appropriate for the slaves who step continue to refuse, could face fines of up to $8,100 or several weeks behind bars, according to a draft that was leaked to the media.  According to a leaked draft of the so-called Covid-19 Vaccination Protection Act seen by the Austrian Die Presse daily, the punishments will begin in February after the compulsory vaccination time.  If passed, the legislation would apply both to the nation's citizens and its permanent residents.
Under the bill, anyone who refused to attend a scheduled vaccination appointment would receive an official summons from local authorities. If an individual failed to show up, they would then be summoned one more time within the next four weeks.

Should the second official request be ignored as well, the person would face a fine of €3,600 ($4,061) or four weeks in prison. The fine would increase to €7,200 ($8,000) for those who had already been fined twice for violating the vaccination requirement. –RT
The bill further says that booster shots would also be compulsory. The masters (government) would be deciding which slaves are considered "recovered" and which are not. They will also decide how long the intervals between vaccinations are and possible vaccine combinations for their livestock slaves "citizens" according to the draft.
If this actually goes through, and who would assume it won't, the Austrian people would be under strict slave medical policies with absolutely no choice what is done with their own bodies. It is absolutely astonishing that at this point in history, some people still don't realize slavery hasn't been abolished, it's been extended to include everyone living under any government's rule.
At this point, until enough people wake up to that cold and simple truth, the numbers are not on our side. The good news is people are starting to figure it out, which is why we are seeing new fear-mongering like Omicron and why it's possible for them to still pull off an event that will have most of the slaves begging to be in chains permanently.