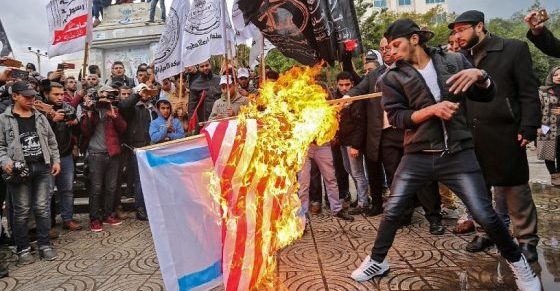 Hamas leader Ismail Haniya has said the United States decision to recognize Jerusalem as the capital of Israel is a "war declaration against Palestinians." And Haniya has called for a new "Intifada", or uprising because of it.
Haniya said in a speech in Gaza City on Thursday that President Donald Trump's recognition of Jerusalem as Israel's capital has "killed" the Israeli-Palestinian peace process."This decision has killed the peace process, has killed the Oslo [accord], has killed the settlement process," he said. "The US decision is an aggression, a declaration of war on us, on the best Muslim and Christian shrines in the heart of Palestine, Jerusalem. We should work on launching an intifada in the face of the Zionist enemy," Haniya said.
Hours after his speech, Palestinian protesters took to the streets of the occupied West Bank cities, including Ramallah, Hebron, and Nablus, as well as in the Gaza Strip, to violently vent their frustration at the decision.  "Jerusalem, all of Jerusalem, is ours," said Haniya. "We are here today at a critical point in the history of the Palestinian issue and the core of the issue is Jerusalem, a critical point in the history of the Arab and Muslim nations following the provocative decision, the unfair decision adopted by the US administration."
Ignoring warnings from the international community Donald Trump announced on Wednesday that the US formally recognizes Jerusalem as the capital of Israel and will begin the process of moving its embassy to the city.  On Thursday, in response to Trump's announcement,  Mustafa Barghouti, the secretary-general of the Palestinian National Initiative, speaking to Al Jazeera from Ramallah, said that Trump was "joining Israel in the war crimes and in confirming the annexation of the occupied Palestinian Territories. I hope that the Palestinian Authority will not accept to meet with this American team anymore," he said.
"Israel decided it wants everything. They want everything? Fine. We will also fight for everything," he said. "We might be talking about a popular wide uprising but non-violent one, similar to the first intifada. That's what we need. Israelis should see the Palestinian resistance everywhere."