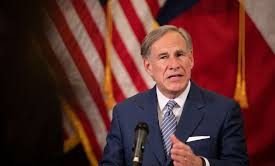 The governor of Texas, Greg Abbott, who infamously said he's going to "allow" Texans to be free after locking them down, has tested positive for COVID-19. Abbott is fully "vaccinated" with the experimental gene therapy and has what the mainstream media is calling a "breakthrough" infection.
"The Governor has been testing daily, and today was the first positive test result," communications director Mark Miner said in a statement on Tuesday, adding that Abbott is currently "in good health and experiencing no symptoms" from the virus.
#BREAKING: Release from @GovAbbott office confirming the #TX Governor has tested positive for #COVID19 #COVID @CBSDFW pic.twitter.com/BMKuvD3pNp

— Ken Molestina (@cbs11ken) August 17, 2021
This seems like a psychological operation designed to convince those on the right who somehow still support this tyrant to get the third shot (the booster.) Or, it could be to set up another lockdown.  It's hard to tell. All we know is no one sits on the throne unless they were put there and willing to roll out the New World Order.
Miner also noted that Abbott would receive Regeneron – a monoclonal antibody treatment, or special lab-created proteins which mimic the immune response to harmful pathogens, like viruses, according to a report by RT. Though the governor is asymptomatic, such treatments can help to reduce the chance of severe illness with Covid-19, according to the FDA.
Why does this feel like a psyop?
Last Friday, Abbott unveiled a plan to establish nine monoclonal antibody infusion sites across Texas in an effort to take pressure off of hospitals. As of Monday, more than 11,500 Covid-19 patients were hospitalized in the state, while the number of ICU beds available had dwindled to 322.

The governor also recently called in 2,500 out-of-state healthcare workers to support hospitals and "mitigate the surge of Covid-19 cases in Texas," while urging medical facilities to postpone elective procedures to clear space for coronavirus patients.

The spike in infections has been attributed to the more contagious Delta variant, which was first observed in India but has since swept the US and a number of other countries. While daily cases and deaths in Texas have yet to reach their peak seen last January, hospitalizations in the state now mirror the worst days of its outbreak. –RT
Texas has also almost reached a 50% full "vaccination" rate. It has administered nearly 29 million doses of coronavirus vaccines, fully immunizing more than 13 million people or about 47% of the state's population.
What do we know? We know the vaccine is not a vaccine, it's an experimental gene therapy. We know the tests Abbott took to find COVID-19, which hasn't been isolated, pick up the common cold. We also know the common cold is synonymous, by the CDC's own admission, (meaning it's the same thing) with COVID-19. We know the flu has disappeared since they started reporting about COIVD 24/7. We know COVID-19 hasn't been isolated.
So what's Abbott trying to pull here? More shots? More lockdowns? Both? Critical thinking skills are going to be much needed in the coming days, and I have said this for months.  Now that's it's becoming obvious that they are all in this together, we need to get even better at finding these psyops. There is so much wrong with this story that it's getting easy for most of us, now, which is a good thing.
Also, it's important to remember that the only source of "data" on the un"vaccinated" being in the hospital is coming from the mouths of the ruling class, and its puppets in the mainstream media.  Nowhere can that information be verified.  It's being spewed out of the mouths of known liars and propagandists. Just another important bit to think about.
Stay prepared.  Stay aware. It's all we can do right now.