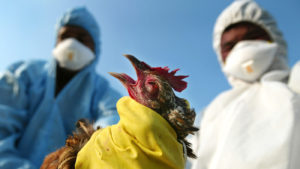 As if we didn't have enough problems with the food supply chain, the rulers are making sure animals meant for food are executed to prevent them from getting "bird flu."
It's becoming difficult to believe all of this is just a coincidence. In South Dakota, 85,000 birds were euthanized because of an "avian flu outbreak," the first the state has seen since 2015. What uncanny timing.
"I think the response is going well and the industry has done a great job of stepping up and trying to prevent it," said Dr. Mendel Miller, the assistant state veterinarian.n"They're doing everything they can, but you know, there's just some things that are out of their control, and we just have to deal with it when it happens," he added according to state propaganda outlet, South Dakota Public Broadcasting. 
Nearly 2.8 Million Birds Have Died In The First Month Of America's Raging New Bird Flu Pandemic
Because we are already experiencing a ridiculous price spike of the cost of food and shortages, it's important to note that this could only add to the chaos. Be prepared, because this is going to get insane if we allow these rulers to continue to impoverish and starve us:
About 10 South Dakota farms saw avian flu outbreaks in 2015, Miller said. The outbreak impacted 50 million birds in 15 states. It cost the federal government nearly $1 billion and caused egg prices to spike. –South Dakota Public Broadcasting
The outbreaks were detected in turkeys at two concentrated animal feeding operations in Charles Mix County, in the southeast part of the state. But other kinds of poultry in close contact with the turkeys were euthanized as well. The U.S. Department of Agriculture has been reporting avian flu in wild birds, commercial facilities, and backyard coops in multiple states since January. The first South Dakota case was reported on March 6. Unfortunately, this means that the ruling class masters could tell other slaves who own birds to kill them. We had better decide now what we are going to do. Just be prepared if you own birds for meat or eggs, or even as pets.
The current outbreak involves "the highly pathogenic avian influenza," according to the Department of Game, Fish, and Parks. "The current strain appeared in both Canada geese and snow geese and other waterfowl in January in the eastern U.S and Canada," GF&P senior waterfowl biologist Rocco Murano said in a news release. "Detections have now been found throughout the Atlantic, Central, and Mississippi flyways."
Prepare. This is the perfect storm for an increase in food prices and shortages at the grocery store. Make sure you have what you need and know how to grow and store your own food. This is getting ugly and it has the potential to cause major chaos once the public begins to realize what's being done.