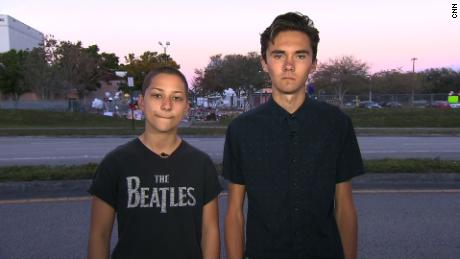 Florida school shooting survivor and now pseudo famous anti-gun activist, David Hogg has been exposed.  His father was in the FBI, and he appears to have been coached on his anti-gun and anti-Trump rhetoric.
Anyone who has been following the news could tell about the scandal involving the FBI, who in collusion with the Obama Administration and Clinton campaign, set out to push the false "verification" of the junk Steele Dossier. It has also been widely reported that the FBI received tips well in advance of the Florida school shooting and decided, for whatever reason, not to act.
Hogg is now so media obsessed and determined to continue the propaganda charade that he snubbed an invitation to meet with President Donald Trump this Wednesday in favor of appearing on a televised town hall with CNN's Jake Tapper.
Few have seen this type of rapid media play before, and when they have it has come from well-trained political operatives and MSM commentators. Immediately, these students-turned-activists threw up some red flags. In what was initially as an incredibly odd move for a high school student, Hogg vehemently defended the FBI and placed the blame squarely on the President's shoulders…. before admitting that his father was in the FBI. –Gateway Pundit
Two survivors of the Florida school shooting slam politicians' responses to the massacre, calling them "disgusting" and "pathetic" https://t.co/XqjuNCCBvF pic.twitter.com/qNszGv95L6

— CNN (@CNN) February 19, 2018
"I think it's disgusting, personally. My father's a retired FBI agent and the FBI are some of the hardest working individuals I have ever seen in my life," proclaimed David Hogg to CNN. "It's wrong that the president is blaming them for this."
Adding to the "credibility" of Hogg, in a recently uncovered early cut from one of his interviews it appears he was heavily coached on lines and is merely reciting a script. Frequently seen in the footage mouthing the lines he should be reciting. Hogg becomes flustered multiple times, is seen apologizing, and asking for re-takes.
https://twitter.com/lucianwintrich/status/966119934186147840?ref_src=twsrc%5Etfw&ref_url=http%3A%2F%2Fwww.thegatewaypundit.com%2F2018%2F02%2Fexposed-school-shooting-surviver-turned-activist-david-hoggs-father-fbi-appears-coached-anti-trump-lines-video%2F
Many immediately snapped to Hogg's defense saying he was just a nervous and traumatized kid who is having trouble expressing his emotions during such a difficult time.  But another interview surfaced of Hogg speaking much more smoothly from 2017.
https://twitter.com/TalkRaceReality/status/966126698012991488
Of course, an incident with a lifeguard isn't the same thing as being a student during a school shooting.  But what about this information?  It seems ironic at best to see that the altercation with a lifeguard happened in Redondo Beach, California, and there are claims he went to school in that same area, although many say they are able to debunk this information.
NOTE: We could not confirm or debunk whether or not Hogg went to Redondo Shores High School in Redondo Beach, California. The photo of him in the Redondo Shores yearbook bearing his name also bears an uncanny resemblance.
https://twitter.com/webourgeois/status/966252325311426560
A clueless Hogg appeared unaware of the fact that the President is not "in control" of each department and branch of government, but must work and negotiate with them. Regardless, Hogg pushed the notion that Trump is in charge of the FBI. "He can't put that off on them. He is in charge of them and these people, what they love to do is push this off on bureaucracy and say it's not them," he said. "He is in charge of the FBI … the executive branch is supposed to enforce laws and as such, President Trump is in charge of that and the FBI."
Hogg has come out publically in the media to declare he isn't a crisis actor and some of those who have called him a crisis actor have lost their jobs.
Claiming some of the students on tv after #Parkland are actors is the work of a disgusting group of idiots with no sense of decency

— Marco Rubio (@marcorubio) February 20, 2018
Our job is not to tell you what to think, but to present information so you can come to your own conclusions. Does this look like a child of a former FBI agent is being used as a pawn in the war against the people to curb the rights of those who literally committed no crime?  You decide.