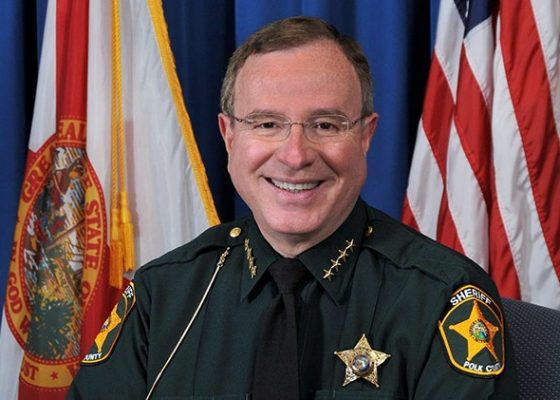 If you have a warrant out for your arrest and manage to safely make it to a Florida hurricane shelter while Hurricane Irma barrels down on the state, a Florida sheriff will make sure you're escorted right to jail.
As Hurricane Irma approaches his state, a county sheriff in Florida said that law enforcement authorities would check the identities of people who turn up at shelters and take to jail anyone found to have an active arrest warrant. On Wednesday, Grady Judd, the sheriff in Polk County, announced the maneuver in a series of messages on Twitter.
If you go to a shelter for #Irma and you have a warrant, we'll gladly escort you to the safe and secure shelter called the Polk County Jail https://t.co/Qj5GX9XQBi

— Polk County Sheriff ? Grady Judd (@PolkCoSheriff) September 6, 2017
"We cannot and we will not have innocent children in a shelter with sexual offenders & predators," the sheriff said, adding law enforcement officers would be posted at shelters to check IDs. "If you have a warrant, turn yourself into the jail — it's a secure shelter."
We cannot and we will not have innocent children in a shelter with sexual offenders & predators. Period. https://t.co/DlhqjqFrkM

— Polk County Sheriff ? Grady Judd (@PolkCoSheriff) September 6, 2017
A spokeswoman for the sheriff, Carrie E. Horstman, said that the authorities hoped the effort would encourage turnout at shelters if county residents know they are safe. Horstman said, "We hope it actually leads to more people turning themselves in."  In a telephone interview on Wednesday, Ms. Horstman said that officers are obligated to take a person into custody if there is a warrant for their arrest and that in some misdemeanor cases a person can be released on bond immediately before they even go to a shelter.
"Our hope even before they reach a shelter is that they will turn themselves into law enforcement prior to that," she said. "It is normal protocol to have an accountability log and to know the names of each person going in," she said. "We need to know who is in there."
But not everyone was thrilled with the Sheriff's announcement, however.
https://twitter.com/AltUSPressSec/status/905455591614709761
The Polk County sheriff's announcement that the authorities would use the hurricane as an opportunity for arrests drew widespread criticism online, leading some to question just how far the checks would go, such as whether Sheriff Judd would jail those wanted on traffic or drug charges, The Orlando Sentinel reported.
Oh hey and look at this history they have of framing people https://t.co/NRBivBWvRy

— Brooke Binkowski (@brooklynmarie) September 6, 2017
The backlash over this announcement was swift and more appear to be against the arrests at the shelters than for them. These announcements also come as word of police turning away volunteers bringing supplies to Hurricane Harvey victims in Texas are turned away and yelled at for trying to help others.
The sheriff's office made these announcements as residents of the state of Florida stocked up on supplies or made preparations to evacuate ahead of Hurricane Irma. Making arrests a top priority over human lives appears callous to Florida residents, especially in the wake of the damage currently being inflicted by Irma on the Caribbean.
The massive hurricane, which battered the northeast Caribbean on Wednesday is now moving on to the Virgin Islands and Puerto Rico. According to a majority of the latest projections, the Category 5 hurricane could make landfall in Florida by Sunday, although it was unclear where exactly that might happen. But the state is already bracing for impact. On Wednesday, Governor Rick Scott activated the state National Guard and declared a state of emergency across the state.
Polk County boasts a population of over 600,000 people, and none of the hurricane shelters have begun accepting evacuees just yet.