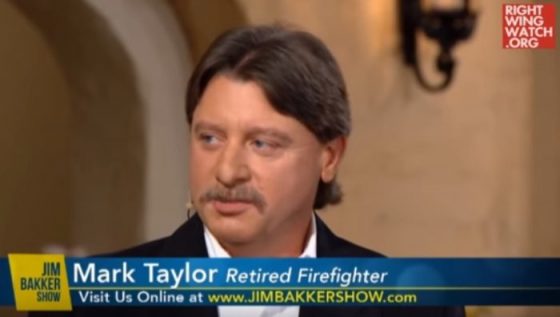 The "fireman prophet," who claims to have predicted the outcome of the 2016 election in 2011 says that president Donald Trump has angels assigned to him, which will also protect his family, and the recent impeachment vote was destined to fail.
Mark Taylor, known as the fireman prophet and co-author of The Trump Prophecies, says impeachment attempts on President Donald Trump will be futile.
In November of 2016, the world witnessed the impossible. Nearly every household in America was tuned in to the election feeds, and every update pointed to a loss for the Republican Party. But when the map of the states flipped red in the final hour, there were a select few who weren't surprised. They had always known Trump was going to win. He was chosen for such a time as this. The prophecy had said so.

This prophet, this reserved man of God, was retired firefighter Mark Taylor. The word given by the Holy Spirit was delivered on April 28, 2011 in the middle of the most debilitating sickness a man could ever experience. –The Trump Prophecies book description
Taylor said that in 2011, God told him that then-businessman Donald Trump would be president and despite his many enemies, God would still protect him. "They will say things about this man, the enemy, but it will not affect him and they will say it rolls off of him like a duck. For even as the feathers of a duck protect it, so shall my feathers protect this next president." – Mark Taylor 2011 The Trump Prophecies 
Taylor says that the recent failed impeachment vote is evidence that God protects Trump. On Wednesday, 58 Democrats in Congress voted to try and impeach President Trump, but the House overwhelmingly voted to kill the resolution as most Democrats joined Republicans in opposing the move. Representative Al Green, D-Texas, brought the resolution to a vote, accusing Trump, among other things, of being bigoted and a racist. After his resolution was read aloud, the House voted 364-58 to table the resolution.
But Taylor says he knew this would happen, and there should be no reason to fear. Taylor said months ago, "Rest assured, they may try these things but none of that's going to succeed because this man has been anointed and appointed by God. He's not going anywhere so I want to put that out there for the people because there's a lot of fear out there. There's no reason to be walking in fear right now," he continued. "What I want to encourage people to do is to stay engaged in the fight. This is not a time to lay down the weapons of your warfare." Taylor says that Trump is not going anywhere.
And Taylor continues to see signs from God in the everyday occurrences of party politics in America. Taylor said, "Interesting thing about today's impeachment vote – it was by a 306 margin; Donald Trump won the election by 306 electoral college votes. You think that's a sign?  Yes."
Mary Colbert,  Taylor's co-author says, "Mark prophesied before he [Trump] was elected, they will try to impeach him but it will not work, so God already gave us a headline warning that they're really going to try to do this. That is not going to happen. He [Trump] has angels assigned to him and his family. You try to harm this man, God help you!" Colbert added.