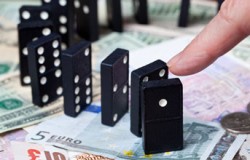 At the height of the financial crisis in 2008 the U.S. government forced some of the countries largest banks to take "bailout" funds amounting to billions of dollars in order to keep them from going bankrupt. It was a move designed to not only keep too-big-to-fail financial institutions afloat, but one that would inspire confidence and keep American consumers spending. As a result, the last several years have seen stock markets reach record highs with Americans continuing to rack up personal debt for real estate, vehicles, education, and consumer goods as if the financial crisis never happened.
But the purported recovery may not be everything that government officials and influential financial leaders have made it out to be.
Recent comments delivered by Federal Reserve Vice Chairman Stanley Fischer suggest that not only are global and domestic economies still struggling, but the U.S. government itself is preparing financial contingency plans in anticipation of another widespread economic event.
However, this time around, according to Fischer, the government won't be bailing out financial institutions in need of cash. Instead, failing banks will turn directly to their unsecured creditors when they need money. And within this context, that means you.
The recession that began in the United States in December 2007 ended in June 2009. But the Great Recession is a near-worldwide phenomenon, with the consequences of which many advanced economies continue to struggle. Its depth and breadth appear to have changed the economic environment in many ways and to have left the road ahead unclear.

…

Work on the use of the resolution mechanisms set out in the Dodd-Frank Act, based on the principle of a single point of entry–though less advanced than the work on capital and liquidity ratios–holds the promise of making it possible to resolve banks in difficulty at no direct cost to the taxpayer.

As part of this approach, the United States is preparing a proposal to require systemically important banks to issue bail-inable long-term debt that will enable insolvent banks to recapitalize themselves in resolution without calling on government funding–this cushion is known as a "gone concern" buffer.
Though Fischer doesn't detail exactly what "bail-inable long term debt" actually is, one only needs to look to Europe, namely Cyprus, to understand what he means.
When the Cypriot banking system collapsed because of an inability to service its debt in 2013, the government forced bank depositors to cover the debts. This led to banks forcibly seizing funds from depositor accounts in order to pay their debts.
According to the Fed Vice Chairman, the U.S. government is now proposing similar rules, following in the footsteps of Europe and Japan, who have already prepared such measures.
The bottom line is that financial, economic and monetary policymakers in the United States are fearful that another crisis, perhaps even worse than what we saw in 2008, is going to be playing out in the very near future. Otherwise, why would they find it necessary to take the drastic step of forcing bank depositors to act as a backstop for their financial institutions?
But this time around, it won't be the government that bails them out directly. Instead, if you have an account with the bank, you are an unsecured creditor for that institution, just like the people of Cyprus were for their banks. And when that bank inevitably comes under pressure because of an inability to cover their debts, it is you who will become the bailout mechanism.
It's not hard to imagine how this scenario might play out the next time around.
At the first hint of another crisis we're going to see panic that will make 2008 look like a picnic. First, stock markets will sell off en masse across the world as a scramble to not be the last one out takes hold of investors. This, in turn, will lead to liquidity problems at major financial institution across the country. As banks run out of cash to cover the tens of billions of dollars they need to service their existing debt, they will turn to the new policies described by Stanley Fischer.
What this means is that one morning you could wake up and see ten or twenty percent of your funds transferred out of your account and exchanged for long-term debt (like a bond) with the promise that the bank will pay it back to you at a later date.
The immediate result, as you might expect, will be widespread bank runs, just as we saw in Europe when Cypriot depositors got hit. But, there will be no cash to be had save a few hundred dollars here and there, as banks will limit ATM withdrawals and will likely shut their doors to customers.
This, of course, would have an effect similar to what we recently saw in Ferguson, except riots and looting will be taking place in every major city across the country.
And though it may seem like an impossible scenario to envision in today's peaceful and stable America, the U.S. military and Department of Homeland Security doesn't think so. For the last several years they have been war-gaming and simulating widespread economic collapse scenarios and they've been stockpiling everything from armored vehicles to riot gear in over 8,000 counties across the United States in preparation for the civil unrest that would explode from coast to coast.
Tess Pennington, author of The Prepper's Blueprint, warns that when a crisis like this hits and people lose everything they have, "a person's anger rules their actions and their thoughts." When that anger takes over, the people will turn on each other and on their government. "They defy government, because the government is the one that took those freedoms and rights away."
The government knows this and they have prepared significant contingency plans for such an event.
When it happens, it will be too late for those who did not have the foresight to prepare for it.
Do you have extra cash on hand in case the banks shut down?
Have you acquired a secondary mechanism of exchange such as gold or silver in case your funds become inaccessible?
Do you have an emergency food stockpile in case bank merchant systems go down and grocery stores are unable to process transactions?
Are you prepared to shelter in place so as to avoid the looting, violence, and government detentions that will be happening in your local neighborhood?
Are you prepared to defend yourself if the violence spreads to your front door?
Now is the time to be ready. The government is. You should be too.
Related Resources:
Contact! A Tactical Manual for Post Collapse Survival
Mountain House Basic Survival Food Kit (6 Months)