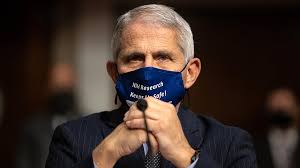 Dr. Anthony Fauci and Dr. Francis Collins continue to propagate for the "vaccines" that aren't vaccines and panic the masses into being injected for a "disease" that's mild by even comparison to the common cold. They will not give up until a critical mass of people have taken these shots.
Although there is no consensus on when enough is enough, we do know that they will stop at nothing to get there, and eventually, you will be required to take endless injections to be allowed to participate in the slave system they are creating for everyone. At the moment, "We're trying to get a veil of vaccinations" across the country, Fauci said, but Americans also need to wear face masks in crowded public settings. In addition, he said the country needs to do better in providing COVID-19 tests.
So even though you're "fully vaccinated," you can still get and spread COVID, so now you have to muzzle up again too. Master Biden is set to address the nation Tuesday to announce how the government is preparing to respond to restrict the slaves even more as the growing number of cases caused by the variant keeps rising.
The rulers are intent upon getting more shots into people and now, if you've already gotten two shots, they need you lined up to get a third. Fauci said on CNN's "State of the Union" show: "If you want to be optimally protected, get boosted."
The United States could be staring at more restrictions on your God-given liberties if we don't stand together in mass non-compliance. The rulers don't respond to violence. And even if they did, they have stolen the fruits of our labor to pay those to commit violence against us on their behalf. Peaceful massive noncompliance and the courage to say "no" is the only way.
Resisting Tyranny Depends on the Courage to Not Conform
Scientists are warning that the British government needs to go further to prevent hospitals from being overwhelmed amid the surge. The warning comes after the government reimposed an indoor mask requirement and ordered people to show proof of vaccination or a recent negative coronavirus test when entering nightclubs or large venues.

London Mayor Sadiq Khan told the BBC new restrictions in Britain are "inevitable." -VOA News
It's time to declare your freedom. You don't earn freedom by "voting" for a new master every four years. You become free when you realize you have no obligation to obey anyone and you should be left alone, as long as you are doing no harm to anyone. Things could ramp up to intolerable levels at any time, and right now, the most important way you can prepare is to cement in your mind that you are free and will obey no master, as you are not a slave.