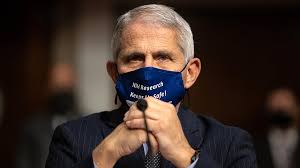 As Aaron Rodgers said: "if science can't be questioned, it's propaganda."  The United States has become the heavyweight champion of propaganda with its Ministry of Truth. Now head medical tyrant Dr. Anthoy Fauci says that he is concerned over the "anti-science attitude."
Fauci is upset at people who question his official narrative. "The anti-science atmosphere that many of us have experienced is very troubling," he said during a Boston radio appearance. It looks like at least one sociopath is delighted in the Ministry of Truth.
How the "Ministry of Truth" Can Censor You Without (Technically) Censoring You​​​​​
"We're living in an era where the normalization of untruths is just so much part of what we live with," he said. "It's so prevalent, the denial of reality, conspiracy theories about vaccinations. It's stunning how distorted that is. I mean, that's bad in and of itself, but when it gets in the way of the proper and appropriate response to a deadly outbreak, it becomes even more tragic," Fauci said according to Boston.com. 
This guy is an obvious tyrant who doesn't like it much when the slaves act up and start thinking for themselves. "We're living right now into what I think is a growing anti-science attitude," the chief medical advisor to President Joe Biden said Monday on WGBH's "Boston Public Radio." "We've seen that growing over the past few years, and it's reaching a point now with COVID, where some very obvious scientific truths based on clear cut, very visible data are rejected by people. The anti-science atmosphere that many of us have experienced is very troubling."
Data such as:
COVID-19 mRNA Shots Are Legally Not Vaccines
Or:
U.S. Ruling Class Data: Fully "Vaccinated" Are Developing AIDS
Or:
Children's Risk Of Death Increases Over 5,000% After Being Injected With The mRNA "Vaccines"
"We know the difference in hospitalizations and deaths among those who are vaccinated and boosted compared to the unvaccinated; it's [an] extraordinary difference, the data are so crystal clear about vaccination," Fauci said. We agree:
https://dailyexpose.uk/2022/02/11/triple-vax-deaths-increase-by-495-percent-pandemic-fully-vaccinated/
"[It] may not necessarily protect everyone against infection, that's for sure because we see infections in people who were vaccinated. But the protection against severe disease leading to hospitalization and death is very, very effective." Is it though? And how could they possibly know that considering you can't "untake" the vaccine to test that theory. It looks like "science" only applies to the ruling class and their propaganda.
"Obviously, this virus is highly contagious," Fauci said. "We know that people who are vaccinated and even boosted can get infected. But the data are very clear about how vaccination and boosting when your boosting time comes up, has a major positive effect in preventing you for the most part … from going on to severe disease, leading to hospitalizations, and death."
Mayo Clinic Doctor: The "Vaccine" Is Useless Against New Variant
CDC Director: "What Vaccines Can't Do Anymore Is Prevent Transmission"