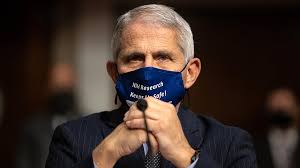 Dr. Anthony Fauci says there is no need for a federal vaccine mandate because local entities will do it for the ruling class. "I don't think you're going to see a central mandate," Fauci, the chief medical adviser to President Joe Biden, said in a CNBC interview on Wednesday. "I think there will be a reflex pushback on that."
But what we will see are businesses and local "entities" (state government "authorities") mandating the jab in exchange for work or to come into a business. "But what I do see in the future are local mandates – at local businesses, local universities and colleges – so that if people want to do things and be able to participate in activities, they will get vaccinated," said Fauci. 
"I don't think you're gonna see a central [vaccine] mandate," says Dr. Anthony Fauci. "But what I do see, in the future, are local mandates." pic.twitter.com/UbHKqIREvb

— CNBC's Closing Bell (@CNBCClosingBell) July 21, 2021
The push for everyone to take this shot had ramped up dramatically since the end of May. With the ruling class running out of ways to convince the slaves that they must get injected, they are resorting to threats and will likely make "local mandates" one of the cornerstones.
"If you want to go the extra mile of safety, even though you're vaccinated, when you're indoors, particularly in crowded places, you might want to consider wearing a mask," Fauci said. He added that rising Covid-19 infections in vaccinated people reflect the variant's "extraordinary capability of transmitting from person to person."
The Biden administration has repeatedly said there are no plans to issue a federal mandate or introduce a centralized 'vaccine passport' scheme to access public places, but Fauci has increasingly agitated for municipalities, institutions, and private entities to achieve the same effect through local requirements. He predicted earlier this month in a CNN interview that local mandates will become more common once Covid-19 vaccines have received full approval from the Food and Drug Administration, rather than being distributed under emergency authorizations, as is currently the case. -RT
Companies Vow To Mandate COVID Shots As Soon As They Are Given "Full Approval"
If things continue, Fauci is correct. The masters won't have to command the slaves to take the vaccine. The slaves will comply on their own and keep their fellow slaves in line. We had better know where we stand if we continue to refuse the shot.
Medical Journal: Get The COVID-19 Vaccine, Or Be Punished HARSHLY