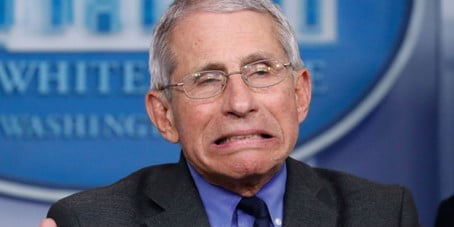 Dr. Anthony Fauci, the head medical tyrant is once again, telling people to take the "vaccine."  Flip-flopper Fauci the fraud says that the scamdemic will be "under control" by the spring of 2022 if enough people just submit to the injection.
"We hope we'll be there … but there's no guarantee because it's up to us," Fauci, director of the National Institute of Allergy and Infectious Diseases and the President's chief medical adviser, told CNN's Anderson Cooper Monday. There has been a desperate push to get this shot into every single human possible and ruling classes have taken to attempting to coerce private businesses into helping them achieve the goal.
The Ruling Class Urges Businesses To Mandate COVID Vaccines For Employment
There is one thing every master agrees upon: get as many slaves "vaccinated" as possible.  Fauci is no exception. The best way forward is to vaccinate as many people as possible, he said, because it's "unclear" what percentage will afford a "return to normal."  Anyone still thinking even a 100% vaccination rate will mean a "return to normal" is living in delusion. After all, do we trust them at all?
Ruling Class: The Scamdemic Won't End Until The WHOLE WORLD Is Vaccinated
This has never been about health or a pandemic.  If it was, we'd see these sociopaths tell people to get enough sleep, vitamin C, vitamin D, and exercise.  Instead, they are using fear to convince people to inject a substance into people that was experimental until yesterday, and by all definitions, not a vaccine. Their lying has no limits and has become too obvious for a good amount of people.
With only 51.5% of the population fully vaccinated, according to data from the US Centers for Disease Control and Prevention, Fauci said the Food and Drug Administration's full approval could help allay concerns and convince a significant portion of Americans to get vaccinated. "I do think there will be a modest increase, but, look, we have a long way to go to fill this gap," vaccinologist and dean of the National School of Tropical Medicine at Baylor College of Medicine, Dr. Peter Hotez said. "I think having the full approval will certainly convince some, but it's just one of a dozen fake talking points put out there by the disinformation campaign. And, I think a number of people are just going to revert to one of the other ones."
So expect their propaganda campaign to ramp up.  If all of the disinformation was actually disinformation, there would be no need to censor and silence those who say it.  Much like if there was a real pandemic, a 24/7 fear-mongering campaign of propaganda would not be needed to tell anyone it exists.
Stay alert and prepared.  Use critical thinking skills.  Practice awareness, because they could try anything at this point, especially if the full approval sham doesn't pay off and get enough to willingly take the shot.