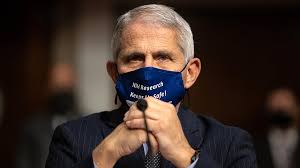 The fear-mongering continues.  Head medical tyrant, Dr. Anothony Fauci, who can't even decide how many masks he should be wearing, is saying "COVID-19 cases have plateaued at a "disturbingly high level." That means we all should fear the upcoming surge.
Because the cases have plateaued high, Fauci says we need to get the experimental gene therapy shot that he himself admitted doesn't stop infection or the spread of COVID-19 in order to stop the upcoming surge.  Is anyone else getting tired of having to point out the lies because mainstream media is complicit in this hoax?
There is a reason the government (the masters and rulers) wants everyone to take this vaccine, and it cannot be good.  With the amount of time dedicated to getting these shots in as many humans as possible, our only line of defense is questioning their agenda with our logic and critical thinking.
The US is vaccinating people quickly, with just over 33% of the population — more than 109 million people — having received at least one dose of the vaccine, and all 50 states committed to opening vaccinations to all adults by April 19. –CNN
"It's almost a race between getting people vaccinated and this surge that seems to want to increase," Fauci said, noting Europe is experiencing a spike much like the one experts worry about for the United States. Fauci also noted that more than 75% of people ages 65 years and older have received at least one shot of the Covid-19 vaccine in the US, according to CNN.
When will this end? They've already told us:
Ruling Class: The Scamdemic Won't End Until The WHOLE WORLD Is Vaccinated
The end game is total control over every single human being on this planet. As I have pointed out repeatedly, the ruling class will treat us like slaves as long as we act like slaves, bowing to every command they make.