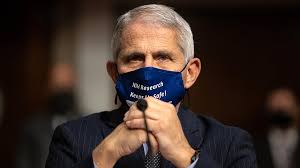 Dr. Anthony Fauci is once again (or still) warning that a surge of coronavirus cases in Europe could foreshadow a similar surge in the United States.  Fauci wants everyone to stay submissive and enslaved while they rush to get the experimental gene therapy falsely labeled a vaccine into as many people as possible.
Without a rise in cases, many on the fence about the "vaccines" won't end up getting them. Would you get a vaccine for a disease that doesn't exist? It really is pretty obvious that this is all about a mass vaccination agenda? They need people to willingly take this gene therapy shot, and there's a reason for that.
The ruling class and elitists must keep the fear high in order to control and manipulate the public. And that's exactly why the mainstream media continues to roll out Dr. Fauci to tell everyone a new and the same reasons to remain scared little sheep and wait for the master to come and save you.
New Jersey "Pauses" Reopening Over Coronavirus Variant Fears
Fauci continues to caution against people making up their own minds and being free.  Apparently, we all should just be willing slaves and stop wanting our free will. Fauci is constantly telling people to continue to submit and bow to the ruling class so they can control you. He does not want people to use their own critical thinking skills and decide for themselves what is right for them.
"I'm concerned that if we pull back in our enthusiasm for the fact that vaccines are rolling out, and things look good if we pull back prematurely, we may trigger another surge. And that would really set us back in all the things that we're trying to do," he told lawmakers other members of the ruling class.
Unfortunately, this time, Fauci gave us a timeline. If we undergo another lockdown, it'll be 3 or 4 weeks after Europe's surge.
"Europe is generally about three to four weeks ahead of us in the dynamics of their outbreak. And what they saw a little while ago was a plateauing of their decrement. They were coming down nicely, and then they plateaued. And then, just as you might have predicted, they then, one, started to go up," he said according to ABC News.
He is telling us to expect that the numbers will go up.  Since they can manipulate them and make the cases say what they want, we should just trust these people who want ultimate control over us. So what's coming? All I have are speculations, to be honest, but stay alert because it could be anything.
More COIVD-19 Vax Deaths: Think They'll Blame This On COVID-21?