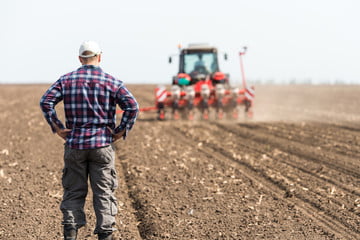 American farmers have had one of their worst years in history.  Before the flooding and unstable weather patterns decreased output, farmers were dealing with bankruptcies and suicides at alarming levels.  Now, they are blaming President Donald Trump and his tariffs for pushing them even closer to the edge with the trade war.
Another Blow To U.S. Farmers: China Suspends Agricultural Imports After Trump's Additional Tariffs
Farmers were having a tough time even before Trump started the trade war with China. But now, many more are reaching their limits and they are starting to see the major problem with killing free trade.
Minnesota Farmers Union President: "At the beginning we spoke out that we supported the president looking at trade agreements. Maybe we can do things better, no disagreement with that at all…We've gone on for over a year. We've lost markets, we lost the China market." pic.twitter.com/kBbgrHQqqS

— The Hill (@thehill) August 19, 2019
According to The Hill, Iowa farmers are increasingly becoming angry and saying Trump broke his promises to them.  Iowa farmers are pushing back after President Trump reneged on a promise to review a national program that gives waivers to small refineries that don't add ethanol to their gasoline.
The president had promised corn farmers he would review the exemption program after a June trip to Iowa, but a recent Environmental Protection Agency (EPA) decision to issue new waivers to fuel producers signaled an end to the administration's study.
According to a report by Reuters, some farmers are so ticked off that they have taken to threats in hopes of making their voices heard.
The U.S. Agriculture Department said on Wednesday it had pulled all staff from an annual crop tour after an employee was threatened, and three sources said the threat of violence was made during a phone call from an angry farmer.

Tour organizers said in a statement the threat was taken "very seriously."

U.S. farmers have complained this month that a government crop report did not reflect damage from historic flooding this spring. They are also frustrated about unsold crops due to the trade war with China, falling farm income and tighter credit conditions. –Reuters
Soybean farmers are in crisis mode. In recent years, China has purchased approximately 60 percent of all U.S. soybean exports. Even if a trade deal is eventually reached, it is unlikely that all of that demand is ever going to come back, wrote Money Maven. Right now, the Chinese are spending enormous amounts of money "to build transportation infrastructure to ship soybeans grown in what used to be rain forests" in Brazil.
This isn't looking good for farmers, and a whole lot of rhetoric and regulations tacked on to already disruptive legislation is making it impossible for farmers to even get by.  It is likely that the United States will face a food crisis sometime in the near future thanks to the destruction of farming. The U.S. government has destroyed farming and while it's partially Trump's fault, his predecessors should also share the blame.