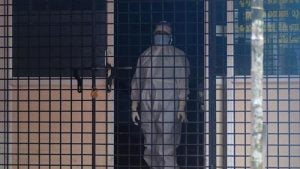 It's not just the un"vaccinated" locked down in Austria now. The masters have decided all of the slaves will be locked down and on house arrest for a raging scamdemic. Not only that but "vaccinations" will now be compulsory even though they have been shown to not stop transmission or infection.
The time to not comply was six months ago. But in Austria, it's clear that the Gestapo are willing to go the extra mile to harass people who continue to refuse to be injected with an experimental gene therapy drug that is by no means protecting those who have already taken it.
Resisting Tyranny Depends on the Courage to Not Conform
On Friday, conservative Chancellor Alexander Schallenberg told a news conference that a complete lockdown of the nation would begin on Monday and last for an initial 10 days, according to a report by RT.  The lockdown will last no more than 20 days depending on the levels of infections. We already know lockdowns don't work. We already know the vaccines don't work. However, when the full lockdown ends, restrictions will remain in place for the unvaccinated.
The Fear-Mongering Never Ends! Germans Will Have A "Really Terrible Christmas" Unless They Obey
Europe is currently experiencing its highest-ever COVID surge, with 310,000 cases being registered across the continent over the last 24 hours. Ireland is also on a "war footing" and could be about to introduce a new lockdown despite having a 94% vaxxed population, mandatory mask mandates, and a vaccine passport scheme already in place. -ZeroHedge
This compulsory vaccine mandate appears to be being forced now because of all the "sudden deaths." People are going to soon figure out what these shots are doing and when they do, there will be anger and unrest we've never seen before. This can be seen in the push by rulers everywhere to force as many as possible to get injected. The chancellor announced that vaccinations would be mandatory from February 1. "We haven't been able to convince enough people to vaccinate. For too long, I and others have assumed that you can convince people to get vaccinated," he added, giving his rationale for the mandate.
These tyrants are not upset that people are still getting a cold or the flu.  They are upset that their edicts are being disobeyed and that their power is threatened. People are daring to live freely while the totalitarian slave state continues to plow forward. The illusion of freedom is gone. We live on a slave planet and we were born onto it. It's time to finally abolish slavery for good.