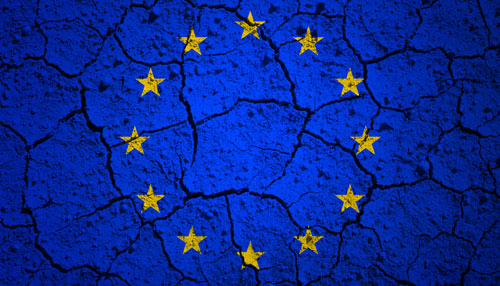 Are we witnessing the end of the EU as we know it?
Things have become so utterly unstable in the European forecast that experts are now expecting to see full on clashes, and eventually, even civil war in the streets.
The pressure of increasing terror attacks in major EU countries, a populist revolt against economic tyranny and the ongoing refugee crisis have been threatening to bust open the seams of order.
Europe is said to be "on the brink," as things are coming to a head, and drastic measures are being considered to keep order and maintain EU authority against a tide of uprisings.
The European Union itself could fall under votes against its authority, now in the UK and in Italy.
via the UK Daily Star:
It comes after months of warnings from experts – including top military brasses – that massive economic issues, mass immigration, and terrorism will lead to a full-scale crisis.

They have predicted this will affect the entire continent, eventually leading to civil war on the streets.
It seems that Switzerland's Lieutenant General and Chief of the Armed Forces, André Blattmann, has foreseen what is to come. He warned last year:
[T]he combination of hybrid wars, the economy, and the refugee crisis would have "unforeseen dimensions".

He then claimed social unrest was something Europe's leaders and armies had to be prepared for.
The Swiss might be historically neutral, but they aren't blind to the upheaval that could threaten stability both at home in their independent nation, and surrounding them on the rest of the European continent.
The Swiss population is armed and trained; meanwhile, disarmed countries, including Germany and Austria, are buying up pepper spray and other self-defense tools, while their governments are warning them to be prepared for domestic war, and to keep at least 10 days of storable food on hand along with other emergencies supplies.
The situation is, and has been, very serious. And things are only escalating from there.
Of course, the agenda of Muslim and extremists is only driving more populist pressure to restrict immigration, and restore nativist and nationalist policies – which is making the whole cycle more grandiose, and more destined for a clash.
Terrorists incidents have been particularly shocking over the past several years, with gunmen, vehicle drivers and the like carrying out random attacks, and often killing dozens or even hundreds in the commission of their crimes.
Some experts in Europe are even claiming that members of ISIS and other Muslim extremists are carrying out violent attacks with the express purpose of inciting widespread hatred against Muslim immigrants, and thereby sparking a bigger reaction, a greater division and the rise of a Caliphate to create a new order out of the chaos:
French scholar of Islam, Gilles Kepel, told German newspaper Die Welt that the eventual goal of Islamic terrorism was not to simply murder western people in Europe.

He explained the purpose of bloody and vicious attacks on innocent people is to incite hatred among the general population of Muslims in general… encourag[ing] more young believers to take up arms against westerners which would eventually lead to civil war on the streets.
This is madness… and there is no sign of its stopping!
Rapefugees attack and wound Swedish policeman

European CIVIL WAR – Europe vs Islam – Islam vs The World

Lawless Berlin Where invaders and Rapefugees are terrorizing

WARNING from Ex- MI6 HEAD: EUROPE FACES "POPULIST UPRISING"

Read more:
Trump: Muslim Migration "Destroying Europe, I'm Not Gonna Let That Happen To The U.S."
European Official Warns: "The Whole System Will Completely Break Down"
Under Siege By Terrorism, Germany Warns "Population Obliged to Hold Supply of Food For 10 Days"
ISIS Sends 400 Trained Fighters to Europe To Attack From "Interlocking, Semiautonomous Cells"
Invaded and Overrun: Is Putin "Weaponizing Refugees To Break Europe"?