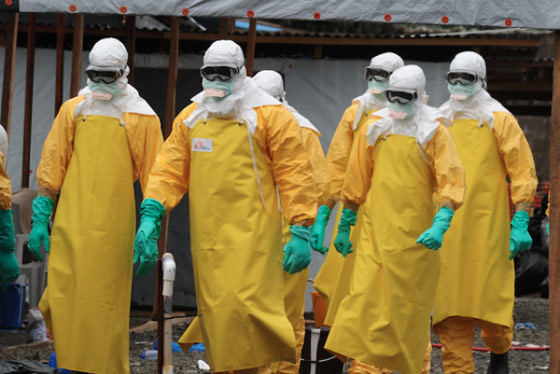 The World Health Organization has declared an Ebola epidemic in the North East region of the Democratic Republic of Congo. At least three deaths have thus far been linked to the virus:
One of those killed had tested positive for Ebola after coming down with a haemorrhagic fever last month in Bas-Uele, a province which borders the Central African Republic.

WHO spokesman Christian Lindmeier has told Sky News that work is under way to find people who may have been in contact with the Ebola sufferer.

…

Ebola occasionally jumps from animals including bats and monkeys to humans – and without preventative measures, the virus can spread quickly between people.

The virus is fatal in up to 90% of cases, and the WHO recently developed an experimental vaccine for use in emergencies.

…

In a statement, the DRC's health ministry said: "Our country must confront an outbreak of the Ebola virus that constitutes a public health crisis of international significance."

…

The WHO has warned that the virus could resurface at any time, as it can linger in the eyes, central nervous system and bodily fluids of some survivors.
The virus originated in a remote region of the Congo, but WHO is tracking down any possible contact the victims had with others. The virus, when detected, often originates in remote regions, but because of international air travel and other modes of transportation, could spread quickly to neighboring villages, then regions, then countries.
In 2013 an Ebola epidemic killed some 11,000 people worldwide as governments across the globe attempted to contain the virus.
There was at least one confirmed case of the virus in Dallas, Texas at the time, which sent the entire medical system into panic.
Though Ebola doesn't move as quickly as a cold or flu, it is significantly more deadly, and according to the following model it could potentially spread fairly rapidly should it escape containment. It would take only one individual to make it through an airport checkpoint and all bets are off:
Microsoft founder Bill Gates warned earlier this year that the world is not prepared to deal with a widespread contagion and that viruses like Ebola or modified biological weapons could kill hundreds of millions of people in a truly global outbreak.
What to do Now…
While the current outbreak of Ebola has reportedly been isolated to less than a handful of individuals in a remote region of the world, it is often the case that such epidemics and pandemics begin under the same circumstances. Experts at the CDC, WHO and other organizations are usually able to contain them, but as highlighted by the events of 2013, sometimes the virus gets out.
What was not being said publicly in 2013 is researchers have warned that Ebola's hyper-evolution could potentially lead it to mutate into something even deadlier than the current strain, meaning that as it touches more humans it could develop the ability to infect hosts faster, and even spread through the air.
In short, at any moment, an outbreak such as the current contagion identified in the Congo could go global, and at much higher rates of infection than previously seen.
It is for this reason, and the fact that governments around the world actively work to create even deadlier biological weapons, plus the possibility of ice melt in the Arctic releasing deadly ancient viruses, that we encourage readers to stay actively prepared for such a scenario.
It will come seemingly out of nowhere and by the time the public is made aware of the seriousness of the crisis it will likely be too late for most, as emergency supplies will have been cleared from grocery store shelves and safety retailers within a matter of hours.
Tess Pennington of ReadyNutrition.com explains the signs to look for to know when it's time to go into pandemic lockdown mode:
The time to make preparations for a worst-case scenario is now. The following are six key warning signs you should be looking for. When these events come to pass or you see these signals, you should strongly consider implementing a self quarantine lockdown:

Emergency officials say they have the situation under control, but more cases continue to pop up.
Local and state governments officially declare an emergency.
Cases have been identified at your local hospital or at schools in your general vicinity.
The general public begins to panic and store shelves start running out of key supplies like food and bottled water.
Looting and lawlessness occurs within the local community.
The virus breaches a 50-mile radius surrounding your home or town.

If any of these signs begin to appear around you, it's time to seriously consider distancing yourself from society, and especially highly dense venues like retail stores, sporting events or schools.
Pennington also recommends considering preparations for a sick room in the event a virus breaches your 50-mile safety zone. Among other things to stock in your sick room, core protective gear like bio-threat rated full body suits, respiratory protection, hand sanitizers and even emergency foods should be included.
Odds are that the current Ebola epidemic identified in Africa will be contained and it will never reach U.S. shores. But someday a deadly virus with the ability to spread rapidly and kill over 90% of its infected victims will make it out of containment. When that day comes, you'll be glad you were prepared for it.
Related:
A Step-By-Step Guide To Prepare For Any Disaster
When Should I Go Into a Full Pandemic Lockdown Mode And Self Quarantine?