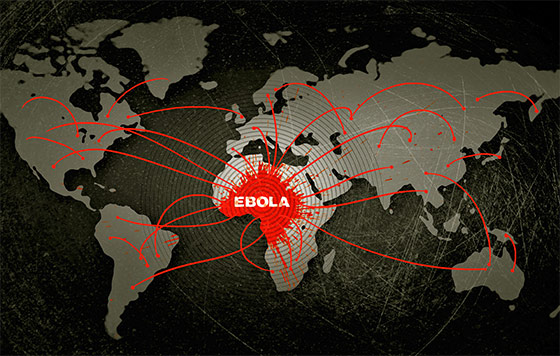 A United States physician who was exposed to the Ebola virus while treating patients in the Democratic Republic of Congo arrived in the United States today and was taken to a secure area at the Nebraska Medical Center. The DRC is currently experiencing one of its worst Ebola outbreaks in history.
According to Politico, the 39-year-old physician, who isn't exhibiting symptoms of the deadly virus, was privately transported to the medical center in Omaha, Nebraska, on Saturday afternoon, officials there confirmed. Ebola, which can spread through direct contact, can incubate for three weeks before an infected person begins showing symptoms. Humans infected with the virus are not considered infectious until they develop symptoms, according to MYVMC.com.  Symptoms include fever, confusion, fatigue, aching muscles, and bloodshot eyes.
The physician was working at a missionary hospital in the DRC and treated a severely ill patient who subsequently tested positive for Ebola, according to a government official with knowledge of the case. The physician's identity is being withheld due to privacy concerns. It has been reported as well that the physician has already received the experimental Ebola vaccine. 
According to Politico, the doctor will be kept under observation in a secure area for up to two weeks and transferred to a special biocontainment unit if any Ebola symptoms develop. The center, which is partnered with the University of Nebraska Medical Center, has previously treated Ebola patients. "This person may have been exposed to the virus but is not ill and is not contagious," said Ted Cieslak, an infectious diseases specialist at the medical center. "Should any symptoms develop, the Nebraska Medicine/UNMC team is among the most qualified in the world to deal with them."
The World Health Organization claims that the Ebola outbreak in DRC could still get worse before it is contained. "We have reached a critical point in the Ebola response," WHO director-general Tedros Adhanom Ghebreyesus said in a statement. "After an intensification of field activities, we were seeing hopeful signs in many areas, including a recent decrease in cases in Beni. These gains could be lost if we suffer a period of prolonged insecurity, resulting in increased transmission."
The disease has killed 356 of the 585 people infected during the almost six months of the current outbreak, and one-fifth of the cases have occurred within the past three weeks.