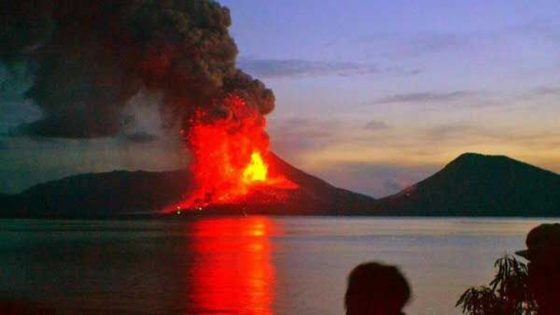 Hundreds of people are fleeing the island of Kadovar after a violent volcano has erupted for the first time in history.  There have also been warnings that tsunamis could strike the island after the alarming eruption.
Mount Tavurvur, in the town of Rabaul in East New Britain province, erupted at 3 a.m. Friday morning, local time. The volcano, located in Papua New Guinea, was thought to be dormant. It has now erupted for the first time in known history, spewing ash thousands of feet into the air and forcing the evacuation of hundreds of residents. But the worst could be forthcoming, as experts now fear this surprising eruption could lead to landslides and tsunamis in the area.
"Due to the steepness of the island, landslides are possible and together with the explosive nature of magma, tsunamis may be generated," the Rabual Volcanological Observatory said in a statement. "It appears from satellite imagery and aerial photographs that it started with mild Vulcanian activity from a vent at the southeast base. It appears a fissure may be opening just inside of the western wall of the net's breach descending down to at least sea level," the statement continued.
Cheyne O'Brien, a forecaster at the Darwin Volcanic Ash Advisory Center, said that the ash clouds had been thrown up steadily to a height of 6,998 feet, forming a plume that is traveling west-northwest. "It's just a continuous emission of volcanic ash at the moment," he added. O'Brien also said that although the plume does not yet pose a threat to aircraft, that could change if the wind switched direction towards Papua New Guinea's Wewak airport.
Just last week, Mount Saint Helens experienced earthquakes while the heavily populated Bay Area in San Francisco was rocked by a small quake that shook millions. Could this be the beginning of the Earth's crust "waking up?"
I have been writing about the shaking that has been happening on the west coast quite a bit lately, but I don't think that people understand the seriousness of what we are facing.

Scientists assure us that the "Big One" is coming, and when it does arrive the devastation will be absolutely off the charts. –Economic Collapse Blog
But this rattling of Earth's foundation could go beyond the West Coast of the United States. There has been an increased level of volcanic activity around the globe, leading many to wonder if scientists were correct when they claimed that 2018 is shaping up to be a year of violent activity in the Earth's crust.