This article was contributed by Lior Gantz of The Wealth Research Group.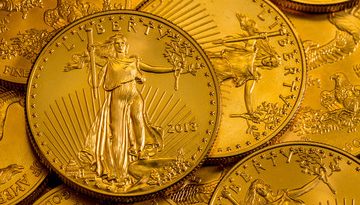 A good friend of mine, who runs a hedge fund, called me after the markets closed this past Friday. He asked me if I had 20 minutes to "BRAINSTORM ON GOLD" and I told him "Always" and that I was DOING THAT ANYWAY, so it's a perfect investment of my time.
I had been immersed in research about gold, silver and mining stocks since dawn this past Friday. Literally, I couldn't be disturbed with anything and WENT OVER scenario after scenario, crunching innumerable ANGLES OF DATA into my computation, until WHITE SMOKE appeared.
This week, I will unveil the results of this research marathon.
Today, I will share with you how I summarized the call with my friend, the hedge fund manager, because it boils down to two words: BULL MARKET.
His first question to me was which asset, gold or silver, should he consider in his fund, if he could only HAVE ONE but not the other. My reply was SILVER.
When he asked me why, I replied with a two-word combination that ACTED AS A THEME throughout our conversation: "BULL MARKET."
In July alone, silver soared by 25%, which happens to be its 2nd best month ON RECORD. I reminded him that in the Wealth Research Group newsletter (which I know he reads), when the gold/silver ratio hit 120:1, I CALLED THE TOP on it. Today, the ratio is 71:1.
Later on, he asked me the following: "If I already own gold in my fund, should I book profits and transition to silver?" I replied that he should, literally telling him, "DUMP YOUR GOLD."
It's a bull market; gold is already $2,043, and while it might even go up AN ADDITIONAL 50% and trade for $3,000, it would be PLAIN STUPID to only make 50% in the greatest bull market of our careers. In your own personal life, instead of saving in dollars, you ought to save in gold ounces, which you NEVER SELL. But in your portfolio, where your aim is to buy low and sell high, go with either silver, which has an 80%-100% upside potential from here, or do WHAT I DO, which is to make CONCENTRATED BETS on specific mining stocks.
This was my message to him.
With bear market rallies, knowing WHEN TO EXIT is essential, since the overall trend is down. But with bull market booms, even seeing gold up 14 out of the past 15 days (as displayed in the chart) SHOULDN'T DETER anyone, since any dips and corrections need to be PRAISED, NOT CONDEMNED – the overall trend is up.
Today's top chart, which shows the correlation between gold and REAL RATES for the 1yr Treasury bond, is all you need to know.
As of now, at least until 2022, the FED isn't going to be raising rates, while inflation is anticipated to climb – which is the DRIVING FORCE behind the precious metals rally.
In today's LAST CHART, featured below, you'll see what the unintended consequences of the Federal Reserve's policies have been: the rich becoming SUPER-RICH, while the real economy starves TO DEATH.
Do you want to STRIKE BACK at the machine, at this system? I told him, "Then make this precious metals bull market WORK FOR YOU."
I know he could be buying the dips and that he won't be shying away from exploiting buying opportunities.
I know he will be WATCHING FOR OUR ALERT TOMORROW!