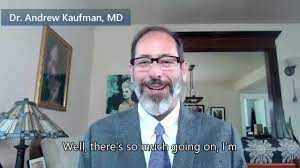 Dr. Andrew Kaufman told host Kerri Rivera on the February 3 episode of the "Champions with Kerri Rivera" show that COVID-19 is a fraud. "There's just no evidence to show that there's a virus that causes this disease," Kaufman said.
"So everything built upon that is fraudulent in one sense or another. It's not actually an isolated virus. It's just the fluid, essentially, from a cell culture experiment," Kaufman said. According to the Food and Drug Administration's own website, this virus hasn't been isolated.
Page 43 of 80 2nd paragraph 2nd sentence. " Since no quantified virus isolates of the 2019-nCOV were available for CDC…" (they used "characterized Stock")   https://www.fda.gov/media/134922/download
The CDC admits that PCR tests can't differentiate between Coronaviruses….

let that sink in…

that means that for the past year and a half colds and the flu have been diagnosed as Covid.

Let ? that ? sink ? in ?

— Dan Dicks (@DanDicksPFT) July 27, 2021
Kaufman noted that even the authors of the publication titled "Isolation of a Virus" all said in written correspondence that they didn't purify any virus in their experiments. "And so in order to show that it's real, that has to be done and it hasn't," Kaufman said, adding that the root cause of an illness must be known so that support can be given to bring healing to the body.
"We certainly don't see evidence of any increased overall death rate. We see lots of fudged death certificates and numbers with financial incentives throughout the healthcare system that skew the data," Kaufman added. We also see a lot "masking" making people sick and hospital treatments killing people, he said.  "So you're inhaling plastic particles in addition to whatever is coming out of your mouth that your body's trying to get rid of. You're re-inhaling and concentrating it in your lungs," said Kaufman, who also warned about the abrasive plastic swabs that have been tested and shown to contain toxic metals and other substances.
Dr. Kaufman's interview can be watched on Brighteon.TV: