This article was contributed by Future Money Trends.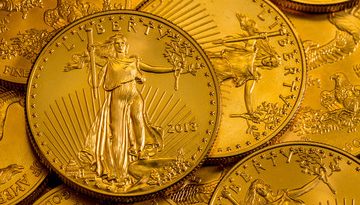 Having trouble buying gold at a decent price? Don't worry, you're not the only one because premiums have gone through the roof with shortages on many gold coins.
Here are 3 Actions You Can Take to Diversify With Gold Immediately
Physical coins: Miles Franklin has been in business since the 1990s and owner Andy Schectman has let us know that for our readers, he will beat ANY price. We receive ZERO referral fees or commissions – this is purely an unbiased recommendation and who we buy from ourselves. You can call him at 800-255-1129.
Sprott physical gold trust: it's the only fund I trust that holds real verified gold, and it's stored in Canada as an added benefit for country diversification. You can buy it on the New York Stock Exchange under the symbol PHYS.
To achieve maximum potential to the upside, you'll want to look at a few core mining shares. Be very selective and only partner with the right people because the management teams matter more than the gold in the ground itself when it comes to mining stocks. To read our full profile of our top recommendation and largest holding, please click here.
governments, central anksWe consider gold to be a cash-equivalent – it's the ultimate form of money.
Central banks own it and have been net buyers since 2009.
With the recent actions taken by governments and central banks worldwide, you should consider having a higher than normal position in gold, in our opinion.
I personally have half of my cash in gold coins and half in U.S. dollars.
The world is facing a currency crisis, a reset of what we've all come to know as normal. Just know that things are not normal at all.
Be prudent during this time.
We will continue to provide regular updates and investment ideas straight to your inbox.
Click here to review the latest analyst report of the company with a their 1 year price target.