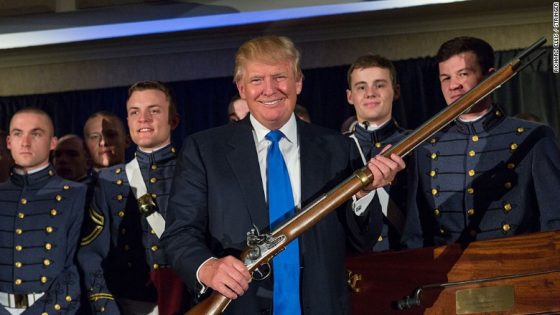 Hopefully, the comments by president Donald Trump are a wakeup call for all Americans, as his statements should have all but sealed his fate in 2020.  Look forward to an overly leftist dictator for president in the next election cycle, although it won't be much different than how Trump is acting now.
Just spewing the nonsense about confiscating law-abiding citizens guns before due process should be enough to send Trump packing in 2020.  The way Trump is acting, we might as well have elected Hillary Clinton, or just given Barack Obama a third term.  Unfortunately, people don't seem to understand that we aren't free and the government will do what it wants regardless of the rules it laid out for itself in the Constitution.
Laura Ingraham even tweeted that should he start coming for fundamental rights, he won't have to worry about being reelected in 2020.
If the President @realDonaldTrump dives on the 2nd Am he won't have to worry abt who runs his 2020 campaign.

— Laura Ingraham (@IngrahamAngle) March 1, 2018
In the White House meeting with lawmakers of both parties, Trump endorsed multiple new gun control measures, including confiscating guns before due process, breaking with Republican lawmakers and throwing his support behind some proposals the National Rifle Association (NRA) opposes.
"I like taking the guns early like in this crazy man's case that just took place in Florida … to go to court would have taken a long time," Trump said at a meeting with lawmakers on school safety and gun violence. "Take the guns first, go through due process second," Trump said. That statement is nothing less than Trump declaring he's a tyrant and the comment itself proudly declares Trump as an egregious violator of basic fundamental human rights.
But after the Las Vegas shooting, SHTFPlan warned not to get too comfortable with your rights based on Trump's history of gun comments.
Back in 2000, Trump laid out his views on gun control. In a page-long explanation of his stance on guns in his book The America We Deserve.  Trump assessed the differences between the two main political parties' gun policies. He called what he said was the Democratic party's desire to "confiscate" guns "a dumb idea" and said Republicans "refuse even limited restrictions," noting that they "walk the NRA line." Instead, he cast his stance as something of a middle ground. "I generally oppose gun control, but I support the ban on assault weapons and I also support a slightly longer waiting period to purchase a gun," he wrote.  And if that isn't evidenced enough, Trump also agreed with Barack Obama, one of the most anti-gun presidents in modern history, after the shooting at Sandy Hook Elementary school in Newtown, Connecticut. –SHTFPlan
Maybe this is the wakeup call we all need to prove the government doesn't care about our rights. It doesn't matter who is elected, or what we expect them to do. Trump's comments should be raising all kinds of red flags right now, and we don't want to say we told you so, but, we told you so:
Dismissing Trump's statements outright is simply for those who don't know what his stance on guns was BEFORE he campaigned for the presidency and how wishy-washy he can be on the issue. Those who do know, are not being so calm about his comments.  Of course, there's no real reason to be up in arms (no pun intended) just yet, because nothing has been proposed, but it isn't hard to see it popping up, and soon. –SHTFPlan, October 2017
This hasn't been a government for or by the people for over 100 years (if not more) and it's only getting worse.  Those in power see themselves as rulers and don't care about anything except the expansion of their own authority over others. We should stop putting our trust in the government and begin relying on ourselves because it will only worsen from here. It feels like Barack Obama's third term just started.