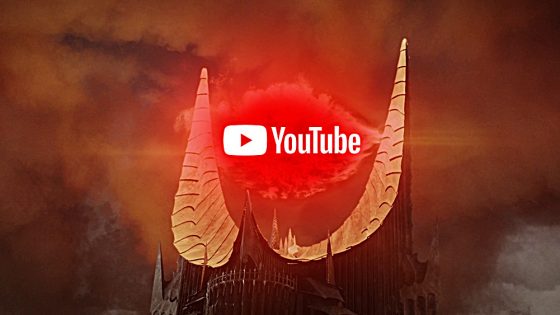 YouTube has announced that it will "temporarily hide" how many 'dislikes' a Joe Biden video has received. The news went down poorly online, but President Joe Biden's social media team is probably pretty happy with the change.
Viewers will still be able to dislike videos, but only creators will be able to see how unpopular their content is.  Joe Biden's videos, even those on mainstream media channels have received a disturbing dislike ratio from day one.  It looks like YouTube is going to not allow others to see just how disliked Biden is.
?? In response to creator feedback around well-being and targeted dislike campaigns, we're testing a few new designs that don't show the public dislike count. If you're part of this small experiment, you might spot one of these designs in the coming weeks (example below!). pic.twitter.com/aemrIcnrbx

— YouTube (@YouTube) March 30, 2021
There wasn't a very warm response to this from users of YouTube either. There may be hope for humanity:
Just admit you are protecting Biden from further embarrassment. Feedback from audience is crucial to running a channel. But you will make this decision knowing it's a terrible one and do it anyway. Fuck YouTube and fuck big tech. https://t.co/PP67S2kgmR

— Woke Societies (@wokesocieties) March 30, 2021
Creators and viewers took to Twitter to complain about the experiment. "No one wants this," Nerdrotic, a pop-culture YouTuber tweeted. "Dislikes are helpful for a great many things and this is what puts YouTube above all others."
This is almost as retarded as getting rid of community captions and abbreviating sub counts. But since you guys can't tell what a bad decision is, you'll do it anyway

— Shadow (?) #FREELEAFY (@ShadowDemonGD) March 30, 2021
"If Twitter had a dislike button, you guys could see how much everybody hates this," YouTuber Drew Gooden tweeted.
No one wants this. Dislikes are helpful for a great many things and this is what puts YouTube above all others.
By all means keep making decisions without asking a broad cross section of creators.
How about making it our choice if you care so much for our well being.

— Nerdrotic (@Nerdrotics) March 30, 2021
I wonder if all the dislikes on Biden videos inspired this new "feature". ? https://t.co/rfj5vjkyAx

— Robby Starbuck (@robbystarbuck) March 30, 2021
Amid the online backlash against YouTube, some commenters suggested that President Joe Biden and his handlers might be happy to see dislikes disappear from YouTube. Since Biden took office in January, every single video posted by the White House has gotten far more dislikes than likes. Oftentimes, videos of Biden speaking earn more than ten times as many thumbs down as thumbs up. 
It is, of course, unclear if Biden's social media team provided the "creator feedback" that YouTube cited as a reason for hiding dislikes. A significant number of dislikes on Biden's videos may come from disaffected Trump voters, but Trump himself never saw a like-dislike ratio quite like Biden's, despite the level of public opposition to his presidency. -RT
It's a new level of censorship as Big Tech starts to protect the masters and the ruling class as the slaves begin to figure out what's happening. As they continue, more and more people will figure this out.  It's almost impossible to see it at this point. The facade is crumbling away. The more these corporations align with the ruling class, they show their true colors just like Big Pharma.
This is just another form of censorship. YouTube does not want people knowing just how disliked the new master is.