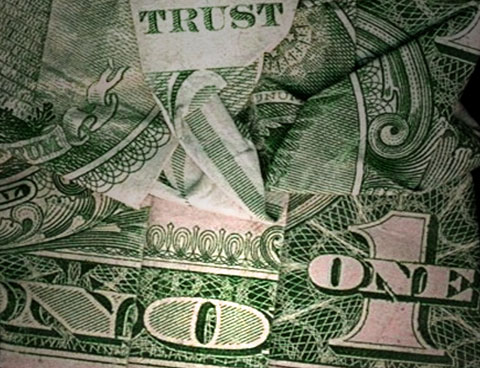 This article was written by Michael Snyder and originally published at his End of the American Dream blog.
Editor's Comment: In a world largely controlled by the Federal Reserve and other central banks who are manipulating the very notion of currency, cash is – and remains – a revolutionary act.
It is no surprise that the powers that be have set out to destroy cash. It is demonized and portrayed as a criminal instrument of the black market, assuming that few are paying attention to the actions in Washington and on Wall Street. Cash represents an economy outside of their control, which they can't tax, add fees to, or multiply in the fractional reserve system. Outliers become enemies in system of government that is interested only in control. The digital control grid offers all the freedom and flexibility of smart devices and electronic transfers – a convenience that comes with strings attached, surveillance and the power to destroy anyone dependent upon the system who might become "unauthorized."
The Beast System Arises: The Largest Bank In Norway Calls For The Elimination Of Cash
by Michael Snyder
The biggest bank in Norway is calling for the complete and total elimination of cash. Many local bank branches in Norway already don't deal in cash, but that is not good enough for DNB. They want a blanket ban on the use of cash, and they are selling this as a way to crack down on criminals and money launderers. But in the end, the truth is that they want to be able to force everyone in society to use the banks and it would enable them to collect fees on almost every transaction. It is an agenda that is being driven by greed, but it could also open the door for great tyranny. Unfortunately, we are not just seeing aggressive movement toward a cashless society in Norway. It is also happening in Sweden, in Denmark and in many other nations all around the globe. The Beast system is rising, and yet very few people out there even seem alarmed by this.
When I first learned about what was happening in Norway, I was absolutely stunned. I have ancestors that came over to America from over there, and I had no idea that this was happening. The following comes from the International Business Times…
The largest bank in Norway has called for the country to stop using cash, the Local reported Friday. This comes as the latest move in a country that has been leading the global charge toward electronic money in recent years, with several banks already not offering cash in their branch offices and some industries seeking to cut back on paper currency.
Of course this idea is being sold as something that will be really good for Norwegian society. DNB promises that eliminating cash will help authorities crack down on criminal activity and money laundering. Here is more from the International Business Times…
"Today, there is approximately 50 billion kroner in circulation and [the country's central bank] Norges Bank can only account for 40 percent of its use. That means that 60 percent of money usage is outside of any control. We believe that is due to under-the-table money and laundering," Trond Bentestuen, a DNB executive, told Norwegian website VG, the Local reported.

"There are so many dangers and disadvantages associated with cash, we have concluded that it should be phased out," he added.
But in addition to catching more criminals, there are many other reasons why governments really like the idea of a cashless society. It would also mean that no financial transaction would escape taxation, and it would also enable them to watch, track and monitor everything that we do much more closely.
And banks would be absolutely thrilled with a cashless society. Every member of society would be forced to use the system, bank runs would be eliminated, and every time we swipe our cards they would collect a fee.
In addition, there would be absolutely no escaping the bank bail-ins that are coming in Europe. If there was no way to pull your money out of the system, there would be no way to avoid the kind of theft that has now been institutionalized by European authorities. I covered the brand new bail-in rules that went into effect in Europe on January 1st, 2016 in a previous article…
If you have a bank account anywhere in Europe, you need to read this article. On January 1st, 2016, a new bail-in system will go into effect for all European banks. This new system is based on the Cyprus bank bail-ins that we witnessed a few years ago. If you will remember, money was grabbed from anyone that had more than 100,000 euros in their bank accounts in order to bail out the banks. Now the exact same principles that were used in Cyprus are going to apply to all of Europe.
Sadly, we are now witnessing a major push toward a cashless society all over the planet.
It is happening in China, in India, and all over Europe. In fact, some nations in Europe have already banned cash transactions over a certain level. Here are just a couple of examples…
As I have written about previously, cash transactions of more than 2,500 euros have already been banned in Spain, and France and Italy have both banned all cash transactions of more than 1,000 euros.

Little by little, cash is being eradicated, and what we have seen so far is just the beginning. 417 billion cashless transactions were conducted in 2014, and the final number for 2015 is projected to be much higher.
Of course the epicenter for the transition to a cashless society continues to be northern Europe.
Denmark intends to entirely eradicate cash by the year 2030, and the transition to a cashless society in Sweden is now almost complete…
Did you know that 95 percent of all retail sales in Sweden are cashless? And did you know that the government of Denmark has a stated goal of "eradicating cash" by the year 2030? All over the world, we are seeing a relentless march toward a cashless society, and nowhere is this more true than in northern Europe. In Sweden, hundreds of bank branches no longer accept or dispense cash, and thousands of ATM machines have been permanently removed. At this point, bills and coins only account for just 2 percent of the Swedish economy, and many stores no longer take cash at all. The notion of a truly "cashless society" was once considered to be science fiction, but now we are being told that it is "inevitable", and authorities insist that it will enable them to thwart criminals, terrorists, drug runners, money launderers and tax evaders. But what will we give up in the process?
The potential for tyranny is what has me concerned more than anything.
Just imagine a world where you could not buy, sell, get a job or open a bank account without participating in "the system".
If you chose to opt out, how would you and your family survive?
And it would be way too easy for the government to set requirements for participation in the system. For example, they could make it illegal to sell to anyone without the proper government-issued form of identification, or they could require some form of loyalty oath as a pre-condition for enrollment.
The war on cash is a direct assault on the fundamental liberties and freedoms that we enjoy today. They may promise us that a cashless society will make our lives better right now, but tomorrow I am afraid that it could open the door to tyranny on a level that most of us would have never even imagined.
---

Michael T. Snyder is a graduate of the University of Florida law school and he worked as an attorney in the heart of Washington D.C. for a number of years.
Today, Michael is best known for his work as the publisher of The Economic Collapse Blog and The American Dream. 
If you want to know what is coming and what you can do to prepare, read his latest book [amazon text=Get Prepared Now!: Why A Great Crisis Is Coming & How You Can Survive It&asin=150522599X].