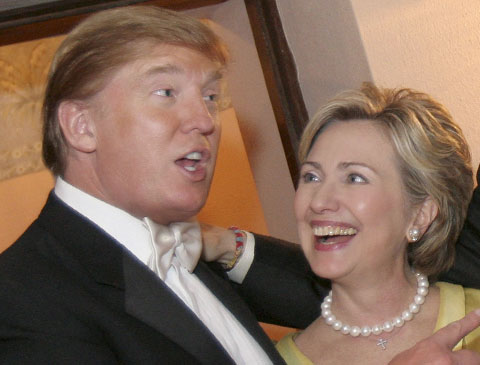 Voice of the people be damned.
With a week until the Iowa caucuses, it would appear that the fix is in – at least if you take the words of some of the world's most elite to heart.
It is perhaps no surprise that the Davos elite – which just converged in the snowy Alps – have it out for Trump. Reuters reported that the "Davos elite [are] alarmed at prospect of nominee Trump," whom they consider "dangerous."
Now, one of their attendees, Martin Sorrell – who heads WPP Group, a very powerful advertising and marketing firm that steers hundreds of entities who represent top corporations around the globe – is boldly predicting that Donald Trump will fail, regardless of his overwhelming support from voters.
In fact, Sorrell and other elitists insiders are snickering and chortling about the demise of his campaign, even as the real estate mogul's name dominated Davos discussions this year.
DC Whisper reported on the comments, raising the possibility that Fox News is conspiring to deliver a "kill shot" against Trump:
It was at that conference that a figure with significant ties to Fox News' own bottom line let it be known his intention to make certain Donald Trump will never win the White House. His name is Martin Sorrell, a British citizen and head of WPP, quite possibly the single most influential and prominent marketing firm in the world with decades-old ties to the most elite of the elite. Here is what Mr. Sorrell had to say regarding Donald Trump just days ago:

"It doesn't matter who the Republicans put up…Hillary will win."
[…]

WPP and its myriad of affiliates, represents up to HALF of all Fox News ad revenue. WPP's clients include such corporate giants as Ford, Glaxo Smith, IBM, Microsoft, Nestle, Walmart, Unilever, etc. – clients who in turn represent tens of millions of dollars in monthly ad revenue that keep the lights of Fox News on and pays the salaries of on-air personalities like Megyn Kelly.

So when someone like Martin Sorrell signals it doesn't matter who the Republicans nominate because Hillary Clinton is going to be the next President of the United States regardless, it is a prediction/threat that should be taken very seriously.
Trump has not only been bucking the establishment, as well as contentious Fox News host Megyn Kelly – but he has also taken on some of the very advertisers that Sorrell represents, and Fox News depends on for their operations.
Donald Trump has attacked Ford during his campaign, recently claiming that he would impose a 35-40% tariff on them for their Mexico production in order to encourage made-in-America vehicles and American jobs. Whether or not that is realistic, that makes Trump a threat to the establishment, and the CEO of Ford – and likely the CEOs of other offshore corporations – have taken notice.
The controversial GOP candidate has also taken on the issue of H1-B labor replacing American workers – which pairs with the outsourcing issue – which could rattle the nerves of firms like IBM and Microsoft.
Also sounding off from the world of Davos was Professor Niall Ferguson, a recurring Bilderberg attendee who wrote authorized biographies on the Rothschild banking dynasty and on Henry Kissinger, who predicted a prime time fail of Trump once the votes are cast. Bloomberg reports:
"If you bother to read some of the serious analysis of Trump's support, you realize that it's a very fragile thing and highly unlikely to deliver what he needs in the crucial first phase of the primaries… By the time we get to March-April, it's all over. I think there's going to be a wonderful catharsis, I'm really looking forward to it: Trump's humiliation. Bring it on."

Ferguson stated he is,"… very much looking forward to" the imminent humiliation of Donald Trump, a rather ominous declaration that hints of an an impending "political kill-shot" intended to end the Trump campaign once and for all.
It is clear that the global establishment indeed perceives Trump as a real threat.
But do they have an ace in the hole that the American people don't know about? Well, that is hat they do best, mostly from the shadows.
Don't rule out the sabotage of the Trump campaign. The bankers own the House, and it is said that the House always wins.
One thing is certain – voters alone don't determine the outcome of elections.