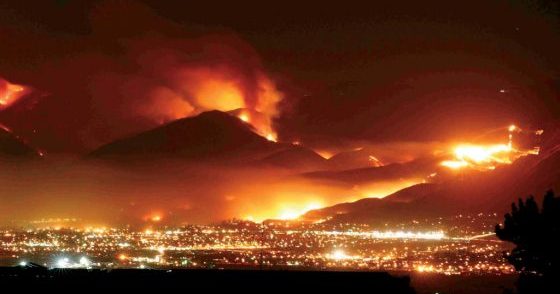 A leading expert on global climate engineering is blaming the elites who engineer the weather for the firestorms ravaging California.  Dane Wigington says that these massive fires are nothing less than geoengineered catastrophes, and he has the evidence to back up claims.
These catastrophes, which are not only cutting off precipitation from the west coast and destroying the ozone layer globally, are creating harmful particulates from the fallout of these fires.  The particulates create an incendiary dust that coats foliage and structures. This makes food production exceptionally difficult for those in California. According to Geoengineering Watch, many have been falsely led to believe that last winter's rain in California erased and eliminated the drought; this could not be further from the truth. Last summer was the hottest and driest on record in countless locations of the western US. The following quote is from the Los Angeles fire department chief:
"Brush burning index is 296. This is the highest number I've ever seen in my career. The threshold for this rating is 165. Monday I said that to the Mayor, this is the highest rating I'd ever seen."
"
In the video, Wigington can be heard telling one of the primary reasons why the elites continue to engineer the weather even though the consequences are disastrous. "One of the primary objectives has been and is the temporary cooling off of some regions at the expense of creating often record high temperatures in other regions," says Wigington in the video above. They are temporarily creating a "cool dense layer of air that reduces Earth's surface temperature.  The result is rapidly worsening extreme weather whiplash scenarios."
The climate engineers will continue to use patented chemical ice nucleation processes to fuel ever more extreme weather whiplash scenarios. The climate engineers are manufacturing the illusion of winter in some regions while overall global temperatures continue to soar toward a runaway scenario. –Geoengineering Watch.org
"This is the biggest cover-up in human history, with the largest most extensive operation in history, with the cooperation of governments around the globe.  That is not speculation," Wigington said during an interview with Greg Hunter of USA Watchdog. "The biosystems of Earth are imploding and 20 million could starve to death in the coming months," he said.
"At what cost to the planet and the web of life does this manipulation come?" asks Wigington