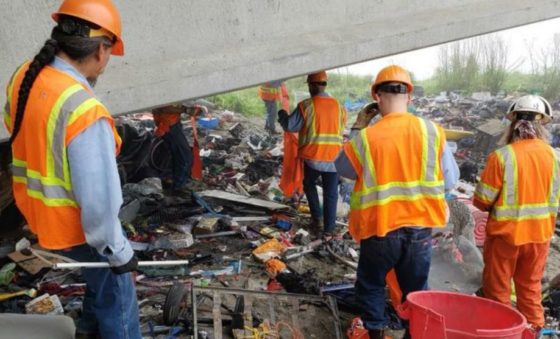 Workers in California, who are desperately trying to clean up the state because of the skyrocketing homeless population, are facing grotesque conditions. Some workers even fear for their health after being faced with buckets of fecal matter and dirty needles.
In a democrat's paradise, such as California, you would think all those taxes and numerous regulations would be able to house some people.  But as the taxes and regulations increase so does the homeless rate, and state workers tasked with cleaning up the mess caused by democrat's policies are facing dire situations.
The taxes will have to continue to rise too in order to cover the cost of cleaning up the shanty towns. According to Fox News, the cost of cleaning up the state's numerous shanty towns is also hitting record highs, and that price tag is likely to keep rising as workers tasked with tossing the vagrants' syringes, feces, used feminine hygiene products, and buckets of urine demand safer work conditions; but that doesn't seem possible considering their job.
The Golden State's homeless population of more than 130,000 people is now about 25 percent of the nationwide total, and cleaning up after the surging group is getting costly — topping $10 million in 2016-17. But the human cost is getting equally untenable, a workers' advocate says. In an official grievance filed last week, the union representing California's maintenance workers accused the state of subjecting its members to hazardous conditions without proper training or equipment.
California will likely provide necessary equipment, and it will all fall onto the backs of the already poverty-stricken taxpayers of the state.  As more are flung into homelessness, instead of easing up on the oppressive government policies that led to this crisis, most politicians in the Golden State will buckle down and pour gasoline on the bonfire.
"It is the Union's contention that Caltrans is not ensuring that our members are being provided the appropriate Personal Protective Equipment (PPE), necessary training, necessary vaccinations and proper compensation for the dangerous hazmat duties they are performing when cleaning up homeless encampments on State Caltrans property," International Union of Operating Engineers director Steve Crouch said in the complaint.
Crouch said that the workers face slippery and muddy conditions in areas riddled with sharp objects, such as used needles, and that could present a health concern. Considering many of California's big cities are dealing with Hepatitis A outbreaks because of the homeless problem, Crouch definitely should be concerned.  "Feces and urine and feminine products and all kinds of things on the ground; needles, syringes, you know they use buckets, five-gallon buckets for toilets and it gets really disgusting,"  he said.
Workers also fear confrontations with residents of the shanty towns the state has tasked them with cleaning up. Sometimes they have pit bulls in there. They'll, you know, let the dogs loose to chase the Caltrans workers out," Crouch said. "Sometimes they'll throw rocks at the Caltrans workers."
A worker who chose to omit his name out of fear of state retaliation said he's seen it all. "I've been exposed to blood, needles, women's feminine products… five-gallon buckets of human feces," he told The Sacramento Bee.