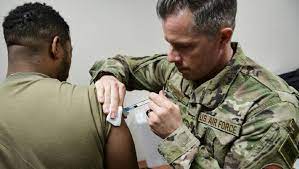 Military personnel will be forced to take the COVID-19 "vaccines" by September 15 of this year.  The date will be moved up too, in accordance with the Food and Drug Administration's expected approval of at least one of the shots.
In memos distributed to all troops, top Pentagon leaders said the vaccine is a necessary step to maintain military readiness. Defense Secretary Lloyd Austin said the mid-September deadline could be accelerated if the vaccine receives final FDA approval or infection rates continue to rise, according to a report by the Associated Press. 
"I will seek the president's approval to make the vaccines mandatory no later than mid-September, or immediately upon" licensure by the Food and Drug Administration "whichever comes first," Austin said in his memo, warning them to prepare for the requirement.
The Pentagon plan provides time for the FDA to give final approval to the Pfizer vaccine, which is expected early next month. Without that formal approval, Austin needs a waiver from Biden to make the shots mandatory, and Biden has already made clear he supports it. –Associated Press.
It has been said that the U.S. government can do this since the military personnel are considered property owned by the federal government. But what's that say about the rest of us? We cannot opt-out of the system they constructed around us, making us slaves too. We just don't collect a paycheck after following their orders. The point is, when will they claim they own us too and can inject us with anything they want?
Joe Biden said the country is still on a" wartime footing" and "being vaccinated will enable our service members to stay healthy, to better protect their families, and to ensure that our force is ready to operate anywhere in the world."
Austin's memo, which went out Monday, was followed quickly by one from Army Gen. Mark Milley, chairman of the Joint Chiefs of Staff. "The Secretary of Defense intends to mandate vaccinations for all Service members in the coming weeks," said Milley, adding that the military's medical professionals recommended the move. At the bottom of his message, Milley scrawled a handwritten note: "Getting vaccinated against COVID-19 is a key force protection and readiness issue."
Just wait. This is going to get pushed further and they will not stop. Human beings are nothing more than tax cattle. And since they can create as much money as they want, who needs the herd?
Military personnel who continue to refuse to be "vaccinated" will face punishments for doing so.
Medical Journal: Get The COVID-19 Vaccine, Or Be Punished HARSHLY
Stay prepared. Things are not slowing down. They desperately need everyone on the Earth to take this shot.  It seems to be about control, and not health, so the pressures will get more intense.