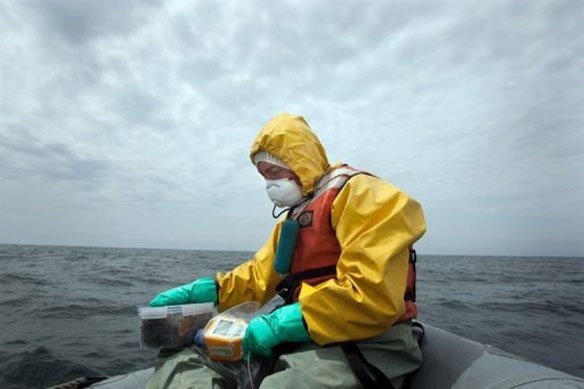 The entire Pacific Coast of the United States, Canada and Mexico has been contaminated with radioactive particles from Fukushima.
And finally, it is being officially acknowledged. This is really happening…
It is a stark reminder that the effects from Fukushima radiation continually spilling into the ocean have not been abated. The site continues to leak highly toxic radioactive material to this day. Nothing has stopped.
via the Associated Press / CBS News:
"Radiation from Japan's Fukushima nuclear disaster detected on Oregon shores"

• • • • •

Seaborne radiation from Japan's Fukushima nuclear disaster has been detected on Oregon shores, researchers say.

Seawater samples from Tillamook Bay and Gold Beach indicate radiation from the nuclear disaster but at extremely low levels not harmful to humans or the environment.
Of course, they claim that it is "safe" because the levels are low. USA Today emphasized the ridiculously minuscule dose of radiation that say, a swimmer would get at the beach – while admitted for the first time that those warning about the spreading radiation were, in fact, correct. exposure:
"Should we be worried about Fukushima radiation?"

• • • • •

The levels are very low and shouldn't harm people eating fish from the West Coast or swimming in the ocean, according to Ken Buesseler, a senior scientist at Woods Hole Oceanographic Institution. 

[…]

Cesium-134, the so-called fingerprint of Fukushima, was measured in seawater samples taken from Tillamook Bay and Gold Beach in Oregon, according to researchers from the Woods Hole Oceanographic Institution.
Of course, the idea that radiation was reaching California and the West Coast, and that fish were being contaminated by Fukushima radiation from thousands of miles across the Pacific was considered – yep – "fake news" at the time. The alarmist cries of conspiracy theorists and hypochondriacs were just non-sense, jibberish, delusions and paranoia. Typical hyperbolic non-sense from people caught up in an echo chamber.
But now, it is an admitted fact that Fukushima radiation is impacting U.S. shores.
Sorry to ignore and deride your claims, above group of deplorables. Turns out you were right, or at least on to something.
The source in this story, as well as most of the other "big" stories on Fukushima over the past several years, is Ken Buesseler, from the Woods Hole Oceanographic Institution in Massachusetts.
He has been a consistent and authoritative voice on Fukushima, sharply criticizing the government role in ignoring the problem, and shedding light on the vast ripple that the nuclear disaster has caused in the biggest of ponds.
Regardless, the linear thinking about "low levels" ignore the mounting scientific evidence about cumulative exposure to radioactive isotopes and other toxins and free radicals.
What's interesting is how much different the same Ken Buesseler is portrayed in different mainstream media accounts… where sometimes only half of the message gets through.
While the The New Yorker pointed out the complexity of dealing with long-term health issues that could be connected to radiation, via Ken Beusseler's comments from 2015:
"Is Radioactive Water Worth Worrying About?"

• • • • •

Whether any of this actually matters depends on whom you ask. "There's a nuclear-power side that's very quick to be dismissive and say, 'Don't worry your pretty little heads, you're not in harm's way,' " Ken Buesseler, a marine-chemistry researcher at Woods Hole and the organizer of the sampling initiative, told me. "The flip side are the people screaming, you know, 'Stay out of the Pacific, don't swim in Monterey, I'm going to move, tell your friends, this is a catastrophe!' " At the levels detected in Ucluelet, Buesseler has calculated, you'd need to swim six hours a day for a thousand years to get the radiation equivalent of a dental X-ray.

The full impact of nuclear fallout, however, depends on more than becquerels, which merely count the number of times per second that an unstable atom somewhere in the sample fires off a particle. These particles, and the differing amounts of energy with which they are ejected, have a wide range of effects on the body. We process cesium like an electrolyte, which means that it is diffused throughout the body and eventually excreted in urine. Half of the amount that is ingested is lost within a few months, which limits exposure.

By contrast, strontium-90, another common component of nuclear waste, is a calcium-like "bone seeker" that becomes concentrated in the skeleton and teeth. Since it stays there for years rather than months, even relatively low doses increase the risk of conditions such as bone cancer and leukemia. From a human health perspective, Buesseler sees a potential strontium leak as far more worrying than a little cesium.
So, as far as nuclear waste goes, cesium-134 is not as bad as strontium-90, but that doesn't mean there are no harmful effects, and it doesn't mean that strontium isotopes aren't affecting the Pacific and West Coast as well – because it has been detected there, and more can be expected to be found:
The biomagnification of the food chain – as low levels of radiation build up in lower life forms and in turn become consumed (and often concentrated) by higher life forms – will increase human exposure in ways that simple measures for exposure time simply do not account for. Its effects will be masked, but not impotent.
What happens to man and the environment when he is exposed to low levels of radiation over the decades and many years that make up his life? What about its impact on DNA through epigenetics? science now knows that gene expression is changed when it is exposed to dangerous materials in the body.
When blue fin tuna that migrate from Japan to the West Coast were found to contain radioactive particles, again, via Ken Buesseler, the mainstream media downplayed the risks, while alternative media sources sounded the alarm – something that shouldn't be happening is:
While the facts in the report remain the same, Forbes, among other mainstream outlets, downplayed the perception of the problem, and essentially giving credence to that idea that there isn't a problem at all:
Forbes even published this misleading 'appeal to conservation':
And don't forget Ann Coulter's claim that radiation is good for you, too.
It wasn't until 2016 – a full five years after the meltdown – that Japanese officials, and in turn outlets like CBS News, admitted that there was indeed a cover-up, and a concerted effort not to use 'branding' and 'perception' words like "meltdown"… even though one was underway:
Latent diseases and disorders have a way of subtly cropping up, creating a silent genocide of worn down people suffering from chronic disease and inflammation that gives way to cancers, heart and brain diseases, autoimmune disorders and the like.
That is the biggest risk that Fukushima still poses today.
Ignored since just after it happened in 2011, the authorities have FINALLY officially acknowledged what they dared not admit since the cover-up began in the wake of the earthquake and tsunami that crippled the nuclear power plant and began the long, slow poisoning of the Pacific Ocean, and all the life that is sustained from it.
This is a horror, and the mainstream media as it is, with your interests above all others, has assured you that this ongoing disaster is, nonetheless, perfectly safe. Everything is fine, back to your regularly scheduled program….
Read more:
The Radiation Warnings You Won't Get from the Mainstream Propaganda Machine
Food Chain Catastrophe: Emergency Shut Down Of West Coast Fisheries: "Populations Have Crashed 91 Percent"
The Bottom of the Food Chain Is Experiencing a Catastrophic Collapse: "Dying In Absolutely Massive Numbers"
Japan Admits First Cancer Death From Fukushima: "Health Effects Have Been Minimal"