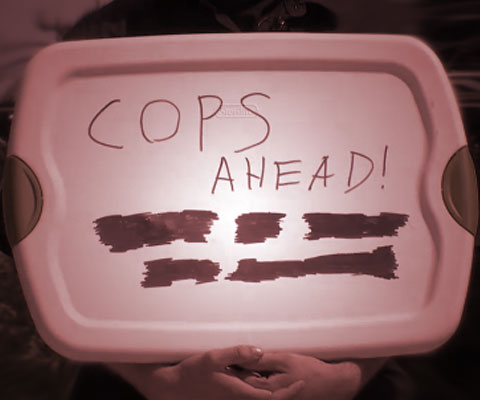 Warning: Don't get between a law enforcement officer and his revenue collection schemes.
What one man said on sign got him ticketed at $138 for violating an obscure city ordinance. It took three police to issue the ticket.
The problem for Daniel Gehlke – apparently – wasn't that he was warning motorist about the police hiding around the corner, but that he was holding a "forbidden sign" handwritten on a plastic lid which read "Cops Ahead. Stop at sign and light."
"The specific issue is that he was giving instructions to motorists through the words he chose words like "slow down" or caution." You can see how it would be distracting for some motorists," a police spokesman rationalized.
Yeah, sure. I guess it had nothing to do with pointing out a lurking motorcycle cop waiting to nab people at an intersection.
According to police, writing words like "stop" illegally gave the impression that Gehlke was trying to regulate traffic and impersonate lawful traffic signs.
Gehlke, whose incident was filmed and put on YouTube, was holding the sign only about five minutes before police stopped him, called it "nonsense" and told officers it was an infringement of free speech:
WHAS 11 reported:
A Seattle man was ticketed after he said he was "just trying to help encourage people to follow the rules of the road" by holding up a sign that tipped motorists off to an impending speed trap.

"Freedom of speech cannot be infringed upon," said Daniel Gehlke, who made the handmade sign that reads, "Cops Ahead! Stop at sign and light!" on a plastic container lid.

"It's not freedom of speech when it's against the law," the officer responds.
Gehlke not only intends to fight the ticket, but crossed out the violating handwritten phrase "stop at sign and light" and returned to the scene with a sign the just read "police ahead."
He said his motivation was to encourage people to obey the law and avoid a costly police encounter.
"If I can help some people not get ticketed and fined and bothered, you know, it's a good thing to do," Gehlke stated.
He told reporters:
"I do think this is police overstepping their bounds and using, twisting laws," he said. "(The code) doesn't read like it's meant for stop signs like this. It's clearly meant for people trying to put up 'no parking' signs or stop sign or a yield signs on a public right-of-way. Not someone who made a sign on a Rubbermaid."
Many other activists have held signs warning drivers and challenging checkpoints and speed traps. Some won, and some lost in explaining their actions to police.
Read more:
• These Police Officers Had an Issue With What One Man's Sign Said Ahead of a Checkpoint — and They Ticketed Him for It
• Adam Kokesh: How to deal with a sobriety checkpoint
• DUI Checkpoint? "You Do Not Have to Roll Your Window Down. You Do Not Have to Talk to Police." Say Nothing, and Display THIS