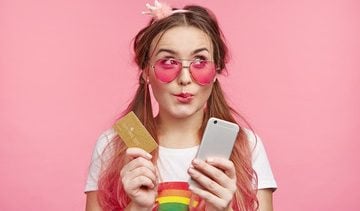 Consumer spending rose .9% in March netting an overall positive response from the mainstream media, with many reports now calling recession fears unfounded. But consumer credit card debt also rose to all-time highs again, meaning people borrowed the money they spend to fund their consumerism.
March's consumer spending increase was the largest in nearly a decade, according to a report by PBS. While consumer spending accounts for 70 percent of economic activity, there's more ill-fated news hidden in these newly released numbers. Incomes grew by 0.1 percent in March while inflation rose 0.2 percent (notice inflation rose more than incomes) and has risen only 1.5 percent over the past 12 months, far below the Federal Reserve's 2 percent target for inflation.
The March gain was the biggest monthly increase since August 2009, the Commerce Department reported Monday. That's a marked improvement after three months of lackluster readings in this key segment of the economy. But based on the credit card numbers, much of that increase in spending was with borrowed money, fueling an already precarious debt situation in the United States.
Credit card balances rose $3 billion in February, and now totals $1.06 trillion, the Federal Reserve reports. Its annualized growth rate was 3.3 percent. Total consumer debt (which includes student loans and auto loans, as well as revolving debt) was up $15.2 billion to $4.05 trillion, making for an annualized growth rate of 4.5 percent.
Consumer spending fueled by debt could be good or the overall economy, however, it's not good for the average everyday American. Considering the Fed loves to jack up interest rates when the larger picture (the U.S. macroeconomy is booming) the measly wage increase won't likely be enough to cover what was borrowed in order to spend in March.
PBS further reported that Americans savings rate fell also, likely because consumer spending rose. With the big rise in spending and the small increase in incomes, the household saving rate fell to 6.5 percent of after-tax income in March, the lowest level since November when it was 6.2 percent.
Some of the increases in spending, lower savings rates, and rising revolving credit could be attributed to the Fed's announcement that they'd be holding off on any more rate hikes in 2019.