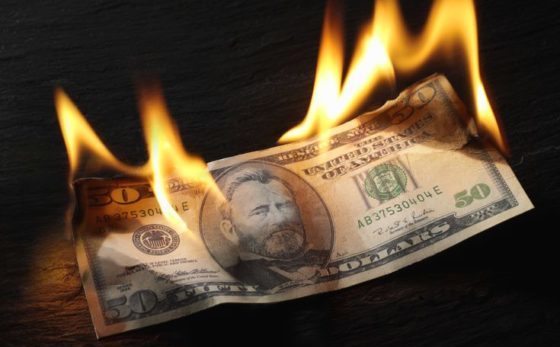 China is the world's largest crude oil consumer, and its eyes are now on the rival United States' currency, the dollar.  The Chinese have effectively challenged the dollar's dominance by launching the petro-yuan, leading some to believe the US dollar's collapse is all but imminent.
According to the South China Morning Post, China's state-run media outlet, trading of the new oil futures contracts for September settlement started on the Shanghai International Energy Exchange at 440.20 yuan ($69.70) per barrel. Some 18,540 lots have reportedly been sold and purchased so far. Concerns that the dollar's glory days are over began last year.
China set to roll out petro-yuan before year end, dollar dominance demise looms? https://t.co/TiaiXjIB0N pic.twitter.com/iqmm0FRvKr

— RT (@RT_com) October 28, 2017
The long-awaited step evoked a surge in global prices for oil with Brent Crude soaring to $71 a barrel for the first time since 2015. US crude benchmark West Texas Intermediate (WTI) reached the highest level in three years at $66.55 per barrel, before retreating to $65.53, reported RT. 
This could be bad news for the dollar.
Oil surging to multi-year highs as China launches petro-yuan https://t.co/jwBwKblRH6

— RT (@RT_com) March 26, 2018
Chinese authorities have reportedly accelerated the launch amid growing crude imports and just last year, the country outpaced the US as the world's number one importer of oil. Thus, the contracts may not only help to win some control over pricing from the major international benchmarks but also promote the use of Chinese currency in global trade.
The greenback will get weaker, as soon as other nations have a real credible alternative to it, Ann Lee, Adjunct Professor of Economics and Finance at New York University and author of the book "What the US Can Learn From China," told RT.  Lee also says this is a "game changer" for the US.  "It is more of a game changer for the US. As soon as other nations have a real credible alternative to the US dollar, they can dump dollars and switch to the yuan which can spark a dollar crisis. If that happens, not only will there be inflation from the tariffs, but also from the flood of dollars," said Lee.
Peter Schiff, a financial guru who predicted the 2008 recession, also said that the dollar will collapse. And when it does, things won't look optimistic for those who use dollars. Although Schiff holds firm that the consequence of the Federal Reserve manipulating the economy will be the crash of the dollar, the Chinese petro-yuan could also play a role.
"They [the Fed] actually made the bubbles bigger than the ones that popped. So now, the dollar's collapse is going to be that much bigger, because it's now a bigger bubble with more air to come out of it. And I think they have no more tricks up their sleeves," said Schiff. "When this happens – it's over."