This article was originally published by Sara Tipton at Tess Pennington's ReadyNutrition.com
Tess is the author of The Prepper's Blueprint: How To Survive ANY Disaster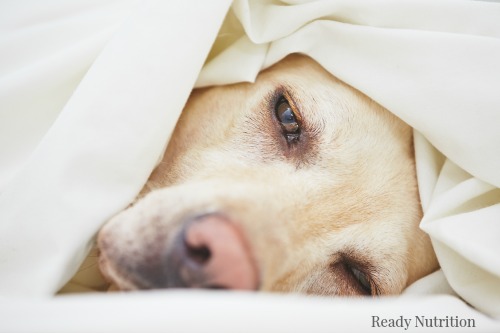 CBD oil (cannabidiol oil) is proving itself as more than just a fad. It seems like everyone, from athletes to everyday busy moms, and even veterinarians are using it as a natural and safe holistic treatment for a variety of ailments.
Many deeply entrenched in the realm of "Big Pharma" are going to say CBD oil (cannabidiol oil) is just a fad and it won't ever gain real popularity like their drugs. But trusting Big Pharma has proven deadly for so many, and now some are choosing a more natural path to healing for themselves and their beloved pets.
Dogs Naturally Magazine reported on a holistic veterinarian that has had success with natural CBD oil. Australian veterinarian Edward Bassingthwaighte discovered how CBD oil could be a necessity in his holistic veterinary practice. "I simply can't explain the improved heart murmur," says Bassingthwaite. "They normally don't get better," he added, speaking of a Jack Russell terrier's improved heart murmur. The ailment improved to the point of the dog wanting to go on long walks outside.
As more people seek natural remedies for health problems, interest in cannabidiol (commonly known as "CBD") is growing, as it is safe and effective when used not just on yourself, but on your beloved dog. CBD oil is a fascinating substance that has tremendous therapeutic value. As Ready Nutrition previously reported, it is just one of over 100 compounds found in cannabis plants (including hemp!) that belong to a class of naturally occurring, biologically active chemical constituents called cannabinoids. CBD is non-intoxicating and unlike THC, the psychoactive ingredient in marijuana, CBD is a phytochemical that won't get you or your dog "high."
While you can use CBD oil on yourself, as it has been known to help regulate to regulate basic bodily functions, including mood, temperature, digestion, sleep, pain, appetite, and many more in humans, veterinarians are also finding it essential in their practice. Those who live a more naturally healthy and holistic lifestyle seem to be on to something with CBD oil.
CBD oil can aid a dog who has separation anxiety. We all know the type of dog; the one that can't stand to be away from his family. But CBD has already been extensively studied on anxiety in humans, and it has been found to reduce anxiety caused by public speaking, reduce anxiety in both healthy people and people with anxiety disorders, and be effective for diminishing panic disorders and post-traumatic stress disorders.
CBD oil and other substances found in hemp and cannabis have been found to have an anti-tumor effect on both humans and dogs. Dr. Bassingthwaighte experienced this first hand when he used CBD oil on a senior Staffordshire Terrier that had a 6cm mammary tumor. That tumor disappeared in 3 months and didn't come back. CBD has even been shown to stop cancer cells from growing and increased tumor cell death.
Further animal studies show that CBD can help prevent colitis (IBD) and restore normal gut motility in inflammatory bowel disease. CBD also has antibiotic properties, including Staphylococcus Aureus (MRSA).
CBD oil is perhaps used the most for pain, as its likely the most common and broad ailment. The cannabinoids in CBD work so well for pain that scientists are considering it as a new class of drug for the treatment of chronic pain. Studies show CBD to be very effective for decreasing pain (including neuropathy and nerve-related pain) and decreasing the impact of inflammation on oxidative stress (which causes degeneration and premature aging). CBD oil also has been shown to decrease inflammation in acute pancreatitis and reduce inflammation, including intestinal inflammation which is associated with irritable bowel disease. And it works just as well on your beloved dog as it does on you!
CBD use on dogs is safe and legal too. With so many studies showing the health benefits of CBD, the most encouraging result is that CBD appears to be safe, even when taken in high doses (more than recommended) and over extended periods of time. It can decrease the activity of liver enzymes used to metabolize many prescription drugs, so if your dog is on medication, you might want to check with your holistic veterinarian before using CBD.
When looking for a CBD oil for your dog (or yourself for that matter) you'll want to choose a high-quality organic oil. It's also important that you don't "cheap out." A cheap CBD oil may cost you less, but you also may not get the full holistic benefits if you try to save. This is one area where frugality is not necessarily your best friend. This CBD oil is our favorite and highly recommended: Organica Naturals
This oil by Organica Naturals comes in three specially formulated versions for pets of all sizes – even horses! And if you have any questions, you can get them answered online on the website quickly.
*This article is for informational purposes only. It is not meant to treat, cure, or diagnose any disease, illness, or any other ailment.
---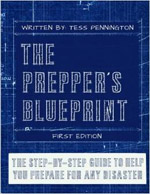 Tess Pennington is the author of The Prepper's Blueprint, a comprehensive guide that uses real-life scenarios to help you prepare for any disaster. Because a crisis rarely stops with a triggering event the aftermath can spiral, having the capacity to cripple our normal ways of life. The well-rounded, multi-layered approach outlined in the Blueprint helps you make sense of a wide array of preparedness concepts through easily digestible action items and supply lists.
Tess is also the author of the highly rated Prepper's Cookbook, which helps you to create a plan for stocking, organizing and maintaining a proper emergency food supply and includes over 300 recipes for nutritious, delicious, life-saving meals. 
Visit her website at ReadyNutrition.com for an extensive compilation of free information on preparedness, homesteading, and healthy living.