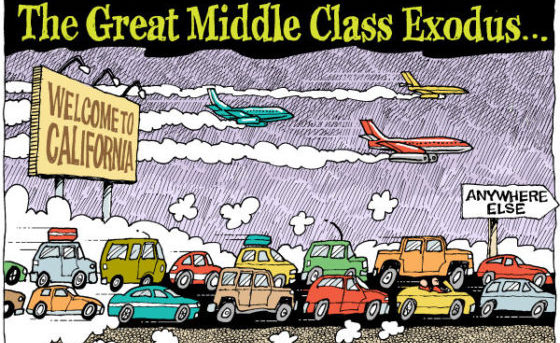 Californians are bailing on the Golden State in droves as the tax burden and housing costs make the price of living unbearable for far too many. Many of those fleeing are the hearty middle-class who are being pushed into poverty by the socialist policies forced on them by the state's elites.
The trend is a symptom of the state's housing crunch and the ever increasing taxation. Census Bureau data show California lost just over 138,000 people to domestic migration in the 12 months ended in July 2017. Lower-cost states such as Arizona, Texas, and Nevada are popular destinations for relocating Californians.
Housing costs and the tax burden is far less impactful in pretty much any place outside of California, whose socialist policies drive up poverty and continuously erode the middle class leaving only the extremely wealthy and those in abject poverty.
The surging number of those working in Silicon Valley and still unable to afford adequate housing should be a warning about big government, but it sure doesn't seem like anyone is taking notice as their taxes continue to rise. As governments creep toward socialism though, poverty becomes the norm, not the exception. Silicon Valley has the highest median income in the nation. But a soaring tax burden and expensive regulations have caused housing prices to increase which has also caused homelessness to surge. –SHTFPlan
"There's nowhere in the United States that you can find better weather than here," said Dave Senser, who lives on a fixed income near San Luis Obispo, California, and now plans to move to Las Vegas. "Rents here are crazy if you can find a place, and they're going to tax us to death. That's what it feels like. At least in Nevada, they don't have a state income tax. And every little bit helps." Senser added that he previously lived in the east San Francisco Bay region, and said housing costs and gas prices are "significantly lower in Las Vegas. The government in the state of California isn't helping people like myself. That's why people are running out of this state now."
A USC Dornsife/Los Angeles Times Poll of Californians last fall found that the high cost of living, including housing, was the most important issue facing the state. It also found more than half of Californians wanted to repeal the state's new gas tax, which raised fees by a whopping 40 percent further burdening those already living paycheck to paycheck.
During the 12-month period that ended in July of 2017, California saw a net loss of just over 138,000 people, while Texas had a net increase of more than 79,000 people. Arizona gained more than 63,000 residents, and Nevada gained more than 38,000. "You can literally have a lot of buying power for the dollar in Southern Nevada versus Southern California," said Christopher Bishop, president of the Greater Las Vegas Association of Realtors. "So it has been a major trend over the year, year and a half, and we're seeing it increase."