This article was originally published by Jeremiah Johnson at Tess Pennington's ReadyNutrition.com
Tess is the author of The Prepper's Blueprint: How To Survive ANY Disaster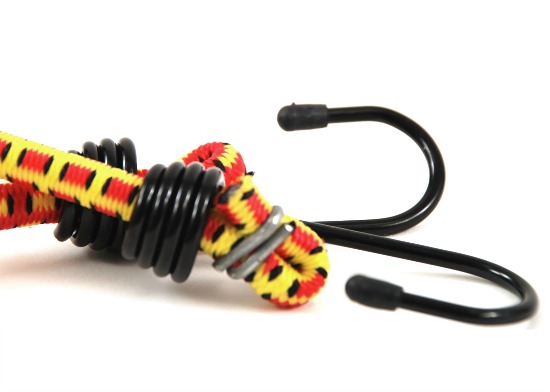 Bungee cords are one of the most useful devices ever invented by man. Their simplicity is only surpassed by the multitude of uses they can be employed for. They can make life a lot easier: at home, out in the woods, or when a disaster strikes…you want to stock up on these guys and know how to use them.
One of the problems is that they can be "faddish" in terms of selling them. There are so many hardware and big-box stores that sell these plastic tubules with lids with what appears to be a wide variety and array of styles, that are pretty much about a third unusable, either because they are impractical or they're junk. They have little "mini-bungee cords," and others that have a nice plastic ball on the end instead of a hook. In a wide variety of fluorescent and highly obnoxious colors, they are also noxious with their "off-gassing" of chemicals from the Chinese factories.
I prefer subdued sets with hooks. They don't have to be so sturdy as to be able to airlift cargo under a CH-47 helicopter. They need to be able to be carried with ease. One of the things I mentioned is with a field-expedient "hootch" or lean-to. In a previous article, we talked about necessary winter gear and a military issue poncho is one of those items. If you are lucky enough to have a poncho that comes with grommets on the corner, you can take five bungee cords…four on the corners, and one on the point where the hood protrudes. This latter point: tie off the hood with the drawstring, and then loop one end of the bungee cord around it, and secure the other to a tree branch, for vertical "lift" on your hootch.
Bungees (if you use the old large Alice Pack of the U.S. Army that I use) can be attached to the frame on the inside, so they sit up against your back when the rucksack is on, and then you can just take them off and use them. Bungees secure gear, such as your poncho, to the outside of your pack (if you don't use a "butt-pack" on your LCE (Load Carrying Equipment) or vest. You can roll up that poncho, and then go around it with the bungee, and secure it to the outside of your gear to break it out if you need it.
That poncho can also be secured overtop of your gear if you want to cover your ruck after grounding it. You already know my rule that I'll repeat here again: you should have two of everything at a minimum. The bungees can be used to secure all kinds of equipment to the outside of your rucksack, and to a vehicle if need be, from a motorcycle to a truck or car. If you live in a "Twilight Zone" state and out in the middle of nowhere as I do, you'll come to see that every other vehicle has a broken hood or trunk. Enter the bungee cord to keep it closed. Keep a half dozen of these in your trunk in the event of an emergency or mechanical failure such as I've just outlined.
We just covered an article on tarps, and the buddy of the tarp is the bungee cord. They enable you to stretch out just about any length of canvas and use it as a tent. You can use one of them between two trees, and then plop a tarp or canvas over the top. Then you pull out the corners and either stake them down or bungee them off. Voila! Instant tent.
Strong bungees can be secured and stretched out to use multiple fishing lines (called "trot" lines) for survival fishing. Watch doing this normally, as you have to check with your friendly local laws in your happy State. There are some states where you can't fish with that method, although in a survival situation, you may wish to pursue your own objectives.
You can twine them together or plait them to multiply their strength, but this should only be used as a last resort and in an emergency. They are extremely useful to moor kayaks and boats temporarily to a fixed point. The best ones I've used came from US Cavalry, but that one's been down and out for years. Any suggestions? No, really: I'm asking, as I think that many of the readers will want to know if you've found a good source. The bungee cords should always be cleaned and maintained. The better you take care of them, the better they will serve you. Looking forward to your comments.  JJ out!
About the Author
Jeremiah Johnson is the Nom de plume of a retired Green Beret of the United States Army Special Forces (Airborne). Mr. Johnson was a Special Forces Medic, EMT and ACLS-certified, with comprehensive training in wilderness survival, rescue, and patient-extraction. He is a Certified Master Herbalist and a graduate of the Global College of Natural Medicine of Santa Ana, CA. A graduate of the U.S. Army's survival course of SERE school (Survival Evasion Resistance Escape), Mr. Johnson also successfully completed the Montana Master Food Preserver Course for home-canning, smoking, and dehydrating foods.
Mr. Johnson dries and tinctures a wide variety of medicinal herbs taken by wild crafting and cultivation, in addition to preserving and canning his own food. An expert in land navigation, survival, mountaineering, and parachuting as trained by the United States Army, Mr. Johnson is an ardent advocate for preparedness, self-sufficiency, and long-term disaster sustainability for families. He and his wife survived Hurricane Katrina and its aftermath. Cross-trained as a Special Forces Engineer, he is an expert in supply, logistics, transport, and long-term storage of perishable materials, having incorporated many of these techniques plus some unique innovations in his own homestead.
Mr. Johnson brings practical, tested experience firmly rooted in formal education to his writings and to our team. He and his wife live in a cabin in the mountains of Western Montana with their three cats.
---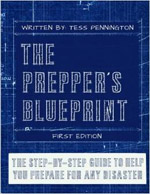 Tess Pennington is the author of The Prepper's Blueprint, a comprehensive guide that uses real-life scenarios to help you prepare for any disaster. Because a crisis rarely stops with a triggering event the aftermath can spiral, having the capacity to cripple our normal ways of life. The well-rounded, multi-layered approach outlined in the Blueprint helps you make sense of a wide array of preparedness concepts through easily digestible action items and supply lists.
Tess is also the author of the highly rated Prepper's Cookbook, which helps you to create a plan for stocking, organizing and maintaining a proper emergency food supply and includes over 300 recipes for nutritious, delicious, life-saving meals. 
Visit her website at ReadyNutrition.com for an extensive compilation of free information on preparedness, homesteading, and healthy living.