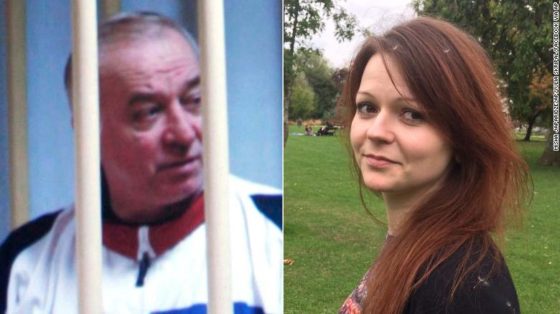 The nerve agent attack on the former Russian agent Sergei Skripal and his daughter looks like "state-sponsored attempted murder," according to the chairman of the U.K.'s Foreign Affairs Committee.  British media claims that Moscow is behind the attempt to use a nerve agent in the United Kingdom to try to kill a former Russian spy.
Tom Tugendhat told BBC Radio 4 on Monday that he expected Russia to be blamed for the March 4 attack on the ex-spy and his daughter Yulia in Salisbury, England. Tugendhat said it was a "bit early to be absolutely certain of that" but added that the Russian government was "certainly behaving aggressively towards people in the U.K."
"We're expecting the prime minister to make an announcement soon and, frankly, I would be surprised if she did not point the finger at the Kremlin," Tugendhat told the BBC.Trace amounts of the substance used to poison Skripal and his daughter were found on and around a table where the pair ate at the Italian restaurant Zizzi, the BBC has learned. The table, along with other items, has been removed and destroyed. Scientists have advised police it could take weeks for the premises to reopen.
Nerve agents are organic chemicals belonging to the group of organo-phosphorus compounds.  They are stable and easily dispersed, highly toxic, and have rapid effects both when absorbed through the skin and via respiration. Nerve agents can be manufactured by means of fairly simple chemical techniques. The raw materials are inexpensive and generally readily available. All nerve agents in pure state are colorless liquids. Their volatility varies widely. Of the nerve agents, Tabun and Sarin are perhaps the most well-known.
According to CNBC, the advice to wash possessions applies to anyone in either venue between 13:30 GMT on Sunday 4 March and closure on Monday. Prof Dame Sally Davies, the chief medical officer for England, said the risk of harm to fellow diners was "low."  Dame Sally said after "rigorous scientific analysis" there was some concern that prolonged exposure over weeks and months could cause health problems but it was "not a subject for panic." She also said, "I am confident none of these customers or staff will have suffered harm."
The British, for all intents and purposes, are blaming Russian for trying to kill their own ex-spy in England. The former Russian double agent Sergei Skripal, 66, and his daughter, Yulia, 33, remain hospitalized in "very serious condition" after being poisoned last week in Salisbury. The father and daughter, believed by authorities to have been deliberately targeted, were found slumped on a bench near a shopping center on Sunday afternoon.