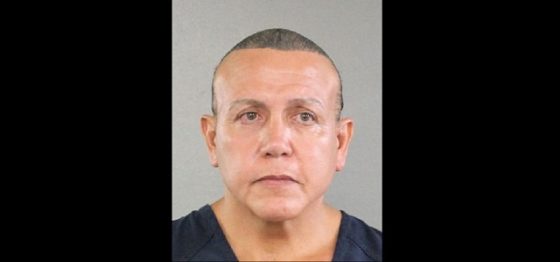 A Florida man has been arrested in connection with the suspicious packages and mail "bombs" that were allegedly sent to prominent Democrats and CNN over the last two weeks.
Cesar Altieri Sayoc, Jr., 56, of Aventura, was arrested at an AutoZone in Plantation, Florida today. DNA evidence was reportedly used to link Sayoc to the packages.
From the Orlando Sentinel:
Records show Sayoc has a history of arrests in Florida on a variety of offenses, most of them involving theft. Broward County court records indicate Sayoc was born in Brooklyn, N.Y.

Court records in Miami-Dade County show Sayoc was arrested there in 2002 on a charge of threatening to throw, place or discharge a destructive device. He was sentenced to one year of probation in that case, which he completed in June 2003.
Here's more on Sayoc, from the SunSentinel:
A registered Republican, Sayoc has been arrested at least 10 times according to the Florida Department of Law Enforcement, once in 2002 for making a bomb threat and most recently in 2015 for a probation violation.

That registration was current as of Sept. 30, 2018, according to state voter files.

State corporation filings show him as an owner or manager of two businesses, Native American Catering and Vending and Ver Tech AG.

***

Law enforcement officials told The Associated Press that the devices, containing timers and batteries, were not rigged like booby-trapped package bombs that would explode upon opening. But they were uncertain whether the devices were poorly designed or never intended to cause physical harm. A search of a postal database suggested at least some may have been mailed from Florida, one official said. Investigators are homing in on a postal facility in Opa-locka, Florida, where they believe some of the packages originated, another official said.
FBI agents and other law enforcement officers in the AutoZone parking lot were seen examining a white van that was covered with stickers. They covered the van with a blue tarp, loaded it onto a truck, and drove it away.
Photos of the van authorities took away from the site of the arrest appear to show photos of Trump and a presidential seal, along with other political decals. One sticker read "CNN sucks."
Right on ??????. pic.twitter.com/G0XTqXdBwV

— Maverick Curmudgeon (@xnar256) October 26, 2018
A Facebook account that appears to belong to Sayoc is filled with pro-Trump posts and videos from 2016.
Update: The Facebook account has either been deleted, or the privacy settings were changed since the time of this writing.
However, some Twitter users captured screenshots of some of Sayoc's Facebook posts:
As you might have guessed, Cesar Sayoc's Facebook profile is basically just pictures and videos of him at Trump rallies. pic.twitter.com/eyeFiCD191

— Spooky Morris ? (@IamShaneMorris) October 26, 2018
Cesar Sayoc's van seized today by the FBI is covered in political stickers, many pro Pres Trump. Sayoc's Facebook is filled with pro Trump posts, including videos of Sayoc attending Trump rallies. @MyNews13 @BN9 pic.twitter.com/awPwZXPWlW

— Greg Angel (@NewsGuyGreg) October 26, 2018
A Twitter account that appears to belong to Sayoc (under the name Cesar Altieri) is also filled with pro-Trump posts, a lot of Soros-bashing, and incoherent ramblings that often include references to "Unconquered Seminole Tribes".
Go Republicans.Low taxes , low crimeWe Unconquered Seminole Tribe,Hard Rock,millions Our customers,Vets,Current Seminole American Top Team MMA.NoTo Progressive Social George Soros,Tom Steyer,Andrew Gillum Tall.Fl Leon county highest ever4 yrs in row#1 Fl Crime Rate 70.60%murder22 pic.twitter.com/bAFqF7ASz8

— Cesar Altieri (@hardrock2016) October 10, 2018
— Cesar Altieri (@hardrock2016) August 19, 2018
This one for you MSNBC Andrea Mitchell . A promise reply to your threats . We will answer is coming see you soon https://t.co/3qA4y4IxmB

— Cesar Altieri (@hardrock2016) July 14, 2018
It a big celebration Georg Clooney crashes and should have died. We almost had a super celebration prays answer Hollywood slime of century died. His time coming awesome . pic.twitter.com/OxKUMQy290

— Cesar Altieri (@hardrock2016) July 10, 2018
His last Tweet was posted on October 24:
— Cesar Altieri (@hardrock2016) October 24, 2018
Naturally, some people are already blaming Trump for this guy's behavior, just like they did when James T. Hodgkinson, a Bernie Sanders supporter, targeted Republican members of Congress in June 2017. Hodgkinson fired 50-60 shots at a D.C. baseball field, wounding at least four people, including House Majority Whip Steve Scalise.
If what we are being told about Sayoc is true and his social media posts are actually his, let's be sure to place the blame where it belongs: on Sayoc himself – not on Trump, not on Republicans, not on anyone else.
This is a breaking story, and this article will be updated if additional information becomes available.