This report was originally published by Paul Joseph Watson at Infowars.com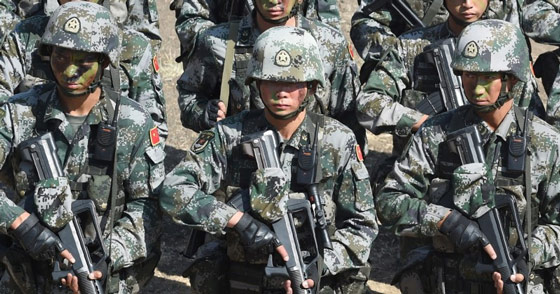 China has put its military on "nationwide alert" while ordering 25,000 more troops to prepare to be sent to the North Korean border as tensions build.
Citing the Information Center for Human Rights and Democracy, a nongovernmental organization in Hong Kong, the Oriental Daily News reports that Beijing has ordered troops from all five of its military regions to be on high alert due to the escalating crisis in the region.
"Armored and mechanized infantry brigades in the provinces of Shandong, Zhejiang and Yunnan received the state mandate," reports UPI.
Around 25,000 troops of the Chinese military's 47th group army of the Ninth Armored Brigade have also been told to prepare to travel long distances close to the North Korean border, while other troop divisions may also have been mobilized.
The new maneuvers follow earlier reports that China deployed 150,000 troops along the North Korean border on Sunday.
Yesterday, an editorial in the Global Times, which is widely seen as a mouthpiece for the ruling Chinese Communist government, let slip that Beijing was prepared to carry out its own strike on North Korea's nuclear facilities if the Stalinist state crossed a "bottom line".
The editorial was subsequently deleted, almost certainly on the orders of government officials.
Chinese President Xi Jinping urged President Trump to pursue a peaceful resolution to the crisis during a phone call between the two leaders earlier today.
South Korean expert Cheong Seong-chang says that the United States could launch a retaliatory strike against North Korea's nuclear reactors if the Hermit Kingdom conducts its sixth nuclear test, which could take place over the next two weeks.
The USS Carl Vinson carrier strike group is currently steaming toward the western Pacific Ocean in a massive show of force, while reports also suggest that Seal Team 6 could be training to take out Kim Jong-un.
The U.S. Air Force has also reportedly deployed WC-135 "nuclear sniffer" planes that specialize in detecting radioactive debris after the detonation of a nuclear device to Okinawa, Japan.
Subscribe to Paul Joseph Watson's Youtube Channel
Follow Paul Joseph Watson on Twitter: Follow @PrisonPlanet
Facebook: https://www.facebook.com/paul.j.watson.71
*********************
Paul Joseph Watson is the editor at large of Infowars.com and Prison Planet.com.