Update Posted May 19, 2010 – 2:00Â  AM CST – SoKo To Officially Blame NoKo: It was a Torpedo!

Nearly a full month after our initial report that South Korean and US investigators determined that North Korea had, in fact, been responsible for the sinking of a South Korean vessel in later March of 2010, the mainstream press may be ready to run with the story.
South Korea will formally blame North Korea on Thursday for launching a torpedo at one of its warships in March, causing an explosion that killed 46 sailors and heightened tensions in one of the world's most perilous regions, U.S. and East Asian officials said.

South Korea concluded that North Korea was responsible for the attack after investigators from Australia, Britain, Sweden and the United States pieced together portions of the ship at the port of Pyeongtaek, 40 miles southwest of Seoul.

…

On Monday, North Korea for the first time directly denied that it was involved in the Cheonan's sinking. "We will not tolerate the confrontations and warmongering schemes of the puppet regime of South Korea," said Yang Hyong-sop, vice president of the Presidium of the Supreme People's Assembly.
Will this go mainstream viral, or will the news blackout continue?
This really is fairly big news. The rogue nuclear nation of North Korea, as they're referred to by President Obama's recent nuclear policy, has intentionally fired a torpedo at a South Korean vessel, violating the cease fire agreed to in 1953. This isn't the first time that NoKo and SoKo have engaged each other since armistice, but North Korea was not a nuclear state before.
More news or no news as the story develops…
Posted April 22, 2010 – 17:00 PM CSTÂ  – NORTH KOREA DENIES
The Korean Friendship Association, an international public relations organization for North Korea, has responded to allegations that a North Korean torpedo sunk a South Korean patrol vessel on March 26, 2010. (read earlier reports)
From the KFA Forum:
The south Korean puppet regime of Lee Myung Bak,which is totally dependent on the US,raising a hullabloo over the tragic sinking of its warship the Chonam in disputed waters in the West Sea of Korea.Even though the south Korean  puppet defence minister himself stated "but there is a possibility that this case would remain indefinitely unresolved due to a lack of physical evidence."

The south Korean rulers have tried to blame the DPRK for the incident and there has been wild talk of military retaliation and the likelihood of another 'sanctions' campaign against the DPRK.Given the seriousness of the allegation you would think they would have better evidence than vague talk of an  external explosion and James Bond style stories about midget submarines, submersible craft and suicide squads.

The south Korean authorities admit "Up to now, no other debris — except the warship wreckage — have been found," clearly if it was a mine or a torpedo fragments of it would have been found by now. Moreover no DPRK vessels or submarines were detected near the Chonam on the day  of the sinking. It is an allegation without real evidence, all circumstanial.
Updates to follow as they become available…
Posted April 22, 2010 – 12:10 PM CST – MEDIA BLACK OUT?

On March 26, 2010, Americans couldn't help but come across reports on television and the internet regarding the sinking of a South Korean patrol ship. It was rumored to have been a North Korean torpedo or mine, and the news wires were on fire.
Screen Shot taken from DrudgeReport.com on March 26, 2010 at 16:00 EST:

(Click Image for Close Up)
(Click Here For Link to Drudge Archive)
At the time, this was reported as quite a large story with North Korea being suspected of having launched a torpedo at the South Korean vessel. After the ship sank, an investigation ensued, and the story was put on the back burner pending the outcome of the investigation until earlier today (read the original report).
However, now that South Korean military intelligence officials and the President of SoKo himself has hinted that this was a North Korean missile attack, the US media has remained silent 12 hours after the story broke.
The following screen shots from five major US media network home pages show that the mainstream, as well as Matt Drudge, are curiously silent on the matter.
There is not a single mention of this incident on any major media news home page.
This must no longer be an important enough story now that a SoKo / US investigation has likely confirmed North Korea's involvement: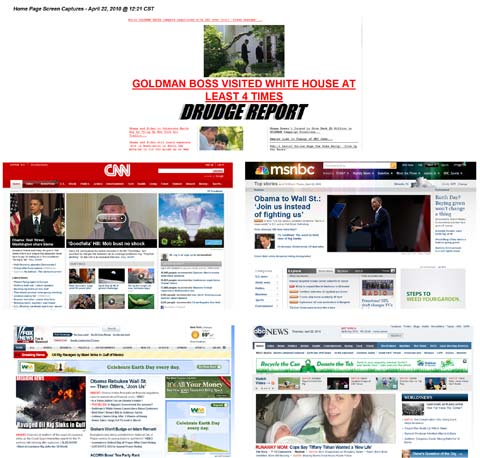 Click Here for Full Size View
Updates to follow as they become available…

Posted April 22, 2010 -Â  01:00 AM CST – SOUTH KOREA BELIECES NORTH KOREAN INTENTIONALLY FIRED TORPEDO

From Reuters via Zero Hedge:
South Korea's military believes a torpedo fired from a North Korean submarine sank its navy ship last month, based on intelligence gathered jointly with the United States, a news report said on Thursday.

…

South Korea's defense ministry had no comment on the report.

"North Korean submarines are all armed with heavy torpedoes with 200 kg (441 lb) warheads," the military source was quoted as saying by Yonhap. "It is the military intelligence's assessment that the North attacked with a heavy torpedo.

If the Reuters report, citing South Korea's Yonhap News Agency, is correct and the United States was involved in the investigation, then we have a very serious problem on our hands.
This information is still breaking and we would expect a response from President Obama's administration or the US military within the next 24 hours. Let's hope this is a rumor, because if the official story is that North Korea sunk SoKo's ship last month, then we have a rogue nuclear state, or outlier, that just fired first.
Note that in between the time that this ship sunk on March 26, 2010, through today's revelation, the President issued a warning in the form of a new nuclear policy, elements of which were directed at North Korea and Iran, leaving on the table the possibility of a US led nuclear response to any perceived acts of aggression.
The President has left open the option of striking in response to any threats, and even striking first if he deems that an attack on the United States or her allies is imminent.
Seoul Composite Index: Down 0.64% @ 1:00 AM CST
Updates to follow as they become available…