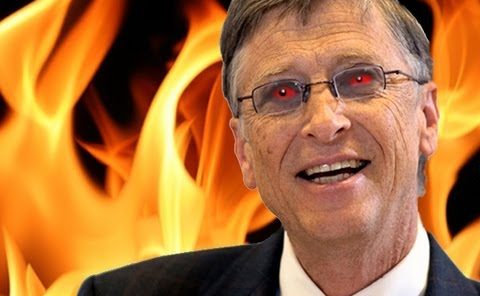 Infamous eugenicist Bill Gates wants to spray millions of tons of chalk into the stratosphere to stop "global warming" or climate change.  This project, which is meant to "dim the sun" could start as early as June.
Harvard University experts will test the system by sending a large balloon 12 miles above the Swedish town of Kiruna and have it drop 2kg of chalk dust into the stratosphere.
BOMBSHELL: Geoengineering Experiment Funded By Bill Gates Is Tied To Depopulation
The project is called SCoPEx, and it's being masterminded by the who's who of eugenicists and depopulation pushers at the highest levels of world government and academia. It's funded and endorsed by Bill Gates, for example, who openly calls for reducing the human population by billions.-SHTFPlan
The Free Thought Project stated that chemtrails and geoengineering are no longer a conspiracy. Rather the mainstream media now supports the spaying of chemicals into the sky to "dim the sun."  It sounds like a wonderful way to completely screw up the entire global ecosystem and ensure no food can be properly grown to feed anyone.
The video is nothing short of an infomercial for chemtrails. It is truly bizarre how this subject has moved from the fringes of conspiracy circles and into the mainstream and no one is even batting an eye. Now that Bill Gates has endorsed and funded it, the world is suddenly open to the idea of attempting to modify the planet's weather by spraying chemicals into the atmosphere to block out the sun. -Matt Agorist, The Free Thought Project
Those who oppose the project and some experts have warned that the unusual technique could be disastrous for weather systems in ways nobody can predict.
The test balloon will lift 600kg of scientific equipment 12 miles above the surface of the Arctic town and if it all goes well, about 2kg of dust will be released.
This will then create a dust plume several kilometers in length – not large enough to have any effect on the intensity of the sun's rays hitting the Earth.
During that first test, the team would gather information on how particles of dust react with the air.  –Daily Mail UK
Bill Gates' Latest Depopulation Scheme? Pollute Skies, Collapse Ecosystem, & Starve Everybody to Death
It seems like a really bad idea to try to alter the Earth in such a dramatic way. We really need to stand up to this kind of destruction, or humanity is in for some real hardships.