Right now, the focus of ShtfPlan.com is to make sure all readers are as UPDATED as possible on the Covid-19 pandemic. Download our EXCLUSIVE report immediately at: http://www.shtfplan.com/virus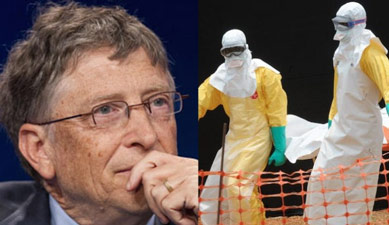 Bill Gates, Microsoft's founder a vocal advocate for global vaccine enforcement has said that the countries who have been in lockdown will "bounce back" in weeks. Hopefully, he's right because Americans are facing what could be a permanent loss of what little freedom we have left in exchange for a false sense of security.
In Wuhan, China, the epicenter of the coronavirus outbreak, no new cases were reported in the past 24 hours. for the first time, according to Bloomberg. That is optimistic news.  However, on the other side of the world, New York's new cases doubled only opening the door for more tyranny and control over people who are begging for the government to take care of them.
What we've experienced due to this outbreak has been nothing short of disastrous. The media has people panicking, not preparing, and people are being subjected to the worst types of enslavement by their governments. Is containing the virus worth every single one of us becoming slaves (more so than we already are)?
Bill Gates is actually saying that countries can get back on their feet rather quickly. In an Ask Me Anything session on Reddit, Gates was asked about how long "this" will last, according to a report by CNBC News. "If a country does a good job with testing and 'shut down' then within 6-10 weeks they should see very few cases and be able to open back up," he responded.
"The current phase has a lot of the cases in rich countries. With the right actions including the testing and social distancing (which I call 'shut down') within 2-3 months, the rich countries should have avoided high levels of infection," Gates wrote. "I worry about all the economic damage but even worse will be how this will affect the developing countries who cannot do the social distancing the same way as rich countries and whose hospital capacity is much lower." –CNBC News
The best way to help right now is to prevent getting the virus and protect the older populations.  Help out your neighbor if
you can, even if it's just to give them a roll of toilet paper. Offer to buy their groceries so they don't have to go out.  Now is the time to use your knowledge of preparedness and help those who need it. The more we can pull together on our own, the less the chance of increased government tyranny. There's also a decreased chance that people would accept it if we can all work together and beat this without government boots breaking down our doors.
Simple Prepper Hacks To AVOID Getting The Flu
Last Minute Quarantine Preps You Can Buy From Home
HOW TO PREPARE YOUR HOME (QUARANTINE) FOR A PANDEMIC