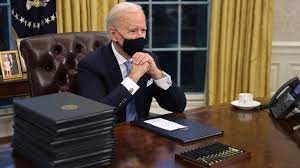 Joe Biden is making a desperate push to get people to take the experimental gene therapy. He says 70% of the country will be fully"vaccinated" by July 4th and that some people just "need more convincing."
Since the rulers are running out of people willing to take this concoction, it makes you wonder how they will cross that 70% mark.
New Poll: U.S. Is Running Out Of Adults "Willing To Be Vaccinated"
Perhaps the next step is an attempt to force this thing into people, or the "punishment" for refusing.
Medical Journal: Get The COVID-19 Vaccine, Or Be Punished HARSHLY
With his administration meeting its goal of administering 200 million doses of coronavirus vaccines in its first 100 days, Biden set a new target on Tuesday: to have 70% of the adult population covered with a first dose, and 160 million people fully vaccinated by Independence Day. As of Tuesday, 105 million people in the US were fully vaccinated against the coronavirus, according to a report by RT. When the masters are in a desperate attempt to get people willingly "vaccinated," it's time to ask questions.
Our goal by July 4th is to have 70% of adult Americans with at least one shot — and 160 million Americans fully vaccinated. It's another huge goal, and a serious step toward a return to normal.

Get vaccinated, keep following CDC guidance. We can do this.

— President Biden (@POTUS) May 4, 2021
From Mind Control to Viruses: How the Government Keeps Experimenting on Its Citizens
The daily number of shots administered has fallen sharply since mid-April, and the White House has switched from promising shots to pleading with Americans to take them. With less than one-third of Americans fully vaccinated with the gene therapies, convincing the others will be tough. But most holdouts firmly expect some kind of push in some way to try to "convince" them to take it.
"There are millions of Americans who just need a little bit of encouragement to get the shot," Biden said, announcing a new website and SMS service that will help the public locate their closest vaccination center. He also said that the federal government is encouraging stores to offer discounts to customers who show up for vaccinations, and with sports leagues to give rewards to vaccinated fans.
The White House also announced on Tuesday that it will spend $250 million on hiring "community outreach workers," $130 million to promote "vaccine education," and another $250 million on state and city-level ad campaigns promoting the jab. So basically, the paid propaganda pushers will be sent out to convince people to suspend their critical thinking, give up their free will, and obey the ruling class.
Recent polling found that the number who'll "definitely not" get vaccinated has remained at a steady 13% since December. With that number not budging, and many more who will "wait and see" before taking it, their prospects look grim.
And we need to ask if the numbers they are giving us are even real. 102 million Americans are fully vaccinated which means almost 1 in 3. That seems high. Dramatically so, but we also know they aren't above lying about the numbers, and perhaps by saying that many have taken the jab, it'll convince others to do so as well.
Another COVID-19 Whistleblower: A Montana Dr. Says Government Is Drastically Overstating Deaths
Study Results: CDC Inflated COVID Numbers By 1600%
When there is an obvious agenda, such as getting people to take whatever is these experimental gene therapies, it bodes well to ask the tough questions.  Mainstream media has proven they won't do it for us. Continue to use discernment and your own critical thinking. It's all we've got right now when we never get the full story when it comes to truth or information.