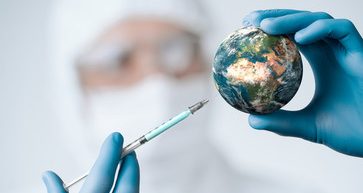 For those paying attention, we already know when they will stop with this hoax of pandemic. It ends when the world is vaccinated, and now Joe Biden has plans to try to make that the reality.
Biden said the US "must vaccinate the world." Obviously. That's the goal. We all know this. If you've been paying attention, you know everything is about whatever is in those shots.  Biden outlined his coronavirus policy for the upcoming months in an op-ed published in USA Today on Thursday. In the piece, the president said that the rapid spread of the new Omicron variant, which has already spilled over to the US, "is a cause of concern," but not "for panic." As long as we submit to our own slavery and take the shots the master demands, right Joe?
Biden seems to think the vast majority of people are living in a state of fear all the time. While some obviously do, most don't. We just want to live freely. But that's not acceptable when you live under a ruling class of any kind. In fact, they are even going to begin pushing the propaganda onto our children.
Resisting Tyranny Depends on the Courage to Not Conform
As part of Biden's "plan" to vaccinate everyone, and to keep schools open, he said the government would step up its vaccination campaign targeting children as young as five, as well as opening"hundreds of new family vaccination clinics," according to RT.  The president also said he would require private insurers to cover the cost of at-home rapid tests, noting that the tests would be readily available for free at "thousands of sites nationwide" for those who lack insurance.
How interesting, considering many people can't even buy food. But the supply chain disruptions never seem to affect the vaccines or the absolute joke that the PCR tests are.
But of course, vaccinating everyone in the United States isn't enough to ensure the New World Order and slave planet continues. "We must vaccinate the world and strengthen international travel rules for people coming into the US," Biden said, adding that the United States plans to ship 200 million doses within the next 100 days, in addition to the 280 million vaccines it has already sent.
Is there seriously anyone out there that cannot see that these shots are necessary somehow for the rulers to complete their task of owning us all permanently? Hopefully, Biden's op-ed will do one thing: enlighten the still asleep sheep to afraid to look beyond the veil and admit the obvious: we are slaves. The real question, once we realize that, is what are we going to about it? And honestly, we can't do anything until enough people realize the truth and are willing to disobey.