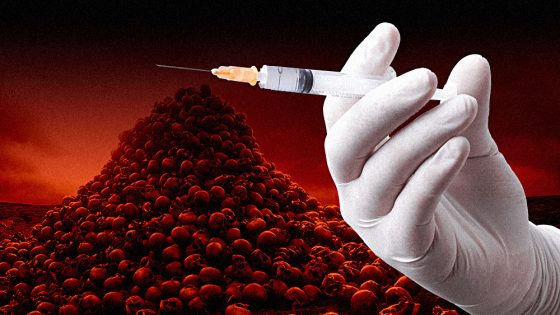 Joe Biden's team of political parasites supposedly held COVID-19 talks with drugmaker executives on the United States government's Operation Warp Speed program to accelerate development of a possible COVID-19 treatment. Biden's spokesman Andrew Bates said in an emailed statement that Biden is committed to a vaccine just like Donald Trump has been.
The vaccine policy won't change under Biden. The U.S. government using the force of the military will attempt to vaccinate every living person in this country. "As we previously said in September, because President-Elect Joe Biden is absolutely committed to helping develop a safe and effective coronavirus vaccine as soon as possible, campaign medical advisers have received briefings from companies working to produce vaccines in order to be informed about the process," Bates said.
Vaccine Update: The Military Has A HEAVY-HANDED Involvement In Operation Warp Speed
Biden's advisers met with companies that have COVID-19 vaccines or therapies in late-stage clinical trials in September and October, Bloomberg News had reported earlier.

The report added that the meeting was aimed at gathering information about the development, manufacturing and distribution of shots to ward off the novel coronavirus and therapies to treat the sick.

Biden has vowed to "listen to the science", with his coronavirus plan calling for scaling up testing and contact tracing and promising to appoint a "supply commander" to oversee supply lines of critical equipment. –Reuters
This information may seem inconsequential, however, it is not. Biden will make sure that he's heavily involved in the same vaccine program Trump was pushing.  There is no change. Do not expect Biden will make this voluntary (at least by any sense of the word.) The government and mainstream media may drop the charade that it'll be voluntary, but it the end result is the same. You will be coerced into getting this shot.
Medical Journal: Get The COVID-19 Vaccine, Or Be Punished HARSHLY