This report was originally published by Tyler Durden at Zero Hedge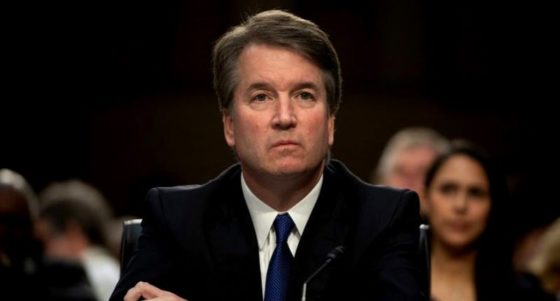 Attorney Michael Avenatti has levied new allegations of sexual misconduct against Supreme Court nominee Brett Kavanaugh. Avenatti's client, Julie Swetnick, claims that Kavanaugh and his friend Mark Judge made efforts to cause girls "to become inebriated and disoriented so they could then be "gang raped" in a side room or bedroom by a "train" of numerous boys."
According to the declaration, Swetnick holds "active clearances" with the Treasury Department, the US Mint and the IRS, and held "inactive clearances" with the State Department, DOJ, Homeland Security and Customs and Border Protection.
Below is my correspondence to Mr. Davis of moments ago, together with a sworn declaration from my client. We demand an immediate FBI investigation into the allegations. Under no circumstances should Brett Kavanaugh be confirmed absent a full and complete investigation. pic.twitter.com/QHbHBbbfbE

— Michael Avenatti (@MichaelAvenatti) September 26, 2018
Sweatnick's declaration reads in part: "During the years 1981-1982, I became aware of efforts by Mark Judge, Brett Kavanaugh and others to "spike" the "punch" at house parties I attended with drugs and/or grain alcohol so as to cause girls to lose their inhibitions and their ability to say "No." This caused me to make an effort to purposely avoid the "punch" at these parties."
"I have a firm recollection of seeing boys lined up outside rooms at many of these parties waiting for their 'turn' with a girl inside the room," Washington resident Julie Swetnick said in a sworn affidavit released by attorney Michael Avenatti. "These boys included Mark Judge and Brett Kavanaugh," she added. Judge was a high school classmate of Kavanaugh. -Bloomberg
Swetnick goes on to say that she "became the victim of one of these "gang" or "train" rapes where Mark Judge and Brett Kavanaugh were present," adding that "Shortly after the incident, I shared what had transpired with at least two other people. During the incident I was incapacitated without my consent and unable to fight off the boys raping me. I believe I was drugged using Quaaludes or something similar placed in what i was drinking."
Here is a picture of my client Julie Swetnick. She is courageous, brave and honest. We ask that her privacy and that of her family be respected. pic.twitter.com/auuSeHm5s0

— Michael Avenatti (@MichaelAvenatti) September 26, 2018
Thanks but no thanks
Democrats and liberal pundits have been distancing themselves from Avenatti of late – and appear to be hesitant to promote his latest claims, according to the Daily Caller.
Senate Democrats have been hesitant to promote Avenatti's claims and liberal pundits have expressed alarm that if Avenatti is bluffing, he could harm their efforts to stop Kavanaugh.

"We don't know who Michael Avenatti's clients actually are. But if he's overhyped the information he has for attention, he will have done real damage to the anti-Kavanaugh efforts — and will deserve to be exiled from cable TV and public life," wrote Vox blogger Zack Beauchamp.

Katherine Krueger, managing editor of liberal website Splinter, said Avenatti "could easily risk hurting the movement to keep Kanavaugh [sic] off of the Supreme Court." –Daily Caller
Now that Swetnick's claims against Kavanaugh have been officially levied, all eyes will be on Congressional Democrats to see if they pick up ball and run with it.
On Tuesday, Sen. Lindsey Graham (R-SC), who sits on the Judiciary Committee, laid out his position on the Kavanaugh accusations – telling reporters that he isn't going to deny the Supreme Court nominee a seat based on flimsy allegations, and that he will "apply the rule of law" as his standard.
What are they supposed to do, interview everyone in Maryland from the summer of 1982?

We're talking about appointing someone to be in charge of the rule of law. I'm going to adopt the rule of law as my standard. If this were a criminal allegation you would never get out of the batter's box, because you can't tell the accused where it happened and when it happened, and there's no corroboration outside the accusation itself. You couldn't sue in civil court for the same reason – you could not even get a warrant.

So I will respectfully listen to Dr. Ford, but here's the question for me and others; what is the standard? What is it going to be? Are you really innocent or guilty based on the accusation? Is there any presumption of innocence left in the confirmation process?

If the accusation is enough, God help us all. It's OK to challenge the accuser.

I will respectfully listen, but if there's nothing new, I am not going to deny him a promotion to the Supreme Court based on a 35-year-old accusation where all of the facts that we do know about seem to suggest it didn't happen the way it was described.

If this is enough to deny a person a seat on the Supreme Court who has otherwise lived a good life, then I don't know where this ends.
Sen. Graham on Judge Kavanaugh:

"Is there any presumption of innocence left in the confirmation process? … If the accusation is enough, God help us all around here." pic.twitter.com/VqnGyOTER5

— NBC News (@NBCNews) September 25, 2018
We imagine that given the level of evidence provided by Swetnick, Graham's stance may not change.
Both Kavanaugh and his original accuser, Christine Blasey Ford, are scheduled to testify in front of the Senate Judiciary Committee on Thursday morning, while a vote has been scheduled to confirm Kavanaugh Friday morning at 9:30 a.m. EST.
According to a Senate panel aide, Thursday's hearing will be held as scheduled.
There's a special place in hell for women who claim they were partying while knowing other women were being gang raped in the other room, Julie Swetnick.

— Cassandra Fairbanks (@CassandraRules) September 26, 2018
.@MichaelAvenatti's client Julie Swetnick is 55 years old.

That makes her 18-19 years old from 1981-1982.

She's admitting to being an adult at ten parties where minors were being gang raped, but she told no one.

Investigate and if possible, charge her.

— John Cardillo (@johncardillo) September 26, 2018