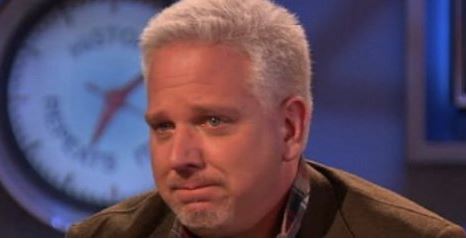 When it became clear that The Donald would become the nominee for the Republican party, and that Ted Cruz, deeply favored by radio host Glenn Beck, no longer had any chance of a Hail Mary! for delegates in a contested floor battle, Beck almost lost it.
He became apoplectic and reportedly suicidal.
Perhaps for Beck more than anyone else, Trump represented the end of and a betrayal of the country that he had hoped to restore through the ballot box.
Now, that avenue has been closed and other means are already being discussed and considered by his guests and associates.
Since it is being openly broadcast on Sirius XM radio, it isn't exactly a quiet conspiracy but one comment was enough to get Beck suspended from air for a week as they discuss whether or not to cancel his show.
via WTVR:
Glenn Beck's syndicated radio show will be off SiriusXM for the rest of the week after a guest was accused of hinting that Donald Trump, if elected president, could be assassinated.

[…]

Those comments came during an interview Beck conducted last week with the fiction author and conservative commentator Brad Thor.

Discussing a potential Donald Trump presidency, Thor lamented that impeachment would likely be off the table.

"If Congress won't remove him from office, what patriot will step up and do that if, if, he oversteps his mandate as president, his constitutional-granted authority, I should say, as president," Thor said. "If he oversteps that, how do we get him out of office? And I don't think there is a legal means available. I think it will be a terrible, terrible position the American people will be in to get Trump out of office because you won't be able to do it through Congress."

The Drudge Report, the influential conservative news aggregator, ran a headline saying that Beck and Thor talked about "taking out Trump."
The comment is rooted in the same branded-version of constitutional talk that has defined Beck's media empire.
Assuming the tyranny of a Trump presidency, Beck's guest Brad Thor's comments can be interpreted as a call to action for a "patriot" to "step up" and remove Trump from office – given that all the legal means available have been extinguished.
Have they all gone insane?
Did this guy really just make a veiled threat of assassination against Trump?
Either way, it underscores the divisive and revolutionary times in which we are living.
And if so, should Beck be pulled off the air, or protected by the first amendment? Ironically, Glenn Beck just came back from meeting with Facebook founder Mark Zuckerberg to discuss the scandal of suppressing conservative news on the world's largest social media site.
Beck gave Facebook a clean bill of health on algorithm-based bias, and appears to have forged a political alliance against Trump.
Glenn Beck and Donald Trump have their own history of exchanging insults. Trump mocked him for crying all the time after Beck accused Trump of supporting Obama.
Donald Trump went on a little rant during a New Hampshire rally this morning about Glenn Beck, who he deemed "dopey" (multiple times) and an "idiot."

[…]

Trump reacted to Beck's comments by calling him a "really dopey guy," saying, "I've watched him cry on television all the time. He's doing very badly. His thing is falling apart, his company is falling apart."
Would a President Trump fight against the tyranny of the establishment, or give it a fresh face to move things along?
Either way, Trump is attracting a lot of hatred, death threats and violent opposition.
The country is ripe for change, and the agents are realigning their loyalties as we speak.
In many respects, it seems that everything that is American is on the line, and subject to be redefined by one or more assumed authorities.
What do you think will happen in November 2016 and beyond?
Read more:
Rapper Threatens To Kill Donald Trump If His "Momma's Food Stamps" Are Taken Away
The American People Have Been Conquered: "Change Through Peaceful Means No Longer Possible"
Anti-Trump Riots Go Primal: "Demonstrators Smash Up a Squad Car, Punch a Donald Supporter"