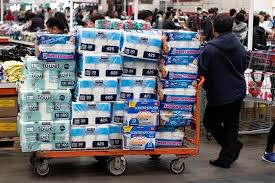 The mainstream media is continuing to be a good puppet of the ruling class by panicking the population into a frenzied state of fear. As we have already seen, when people panic, they hoard toilet paper, and that's happening again, causing grocers to reinstate purchase limits.
In a statement to USA Today, Kroger said they have "proactively and temporarily set purchase limits to two per customer" on items including toilet paper, paper towels, disinfecting wipes and hand soap. The limits went into effect about a week ago, the grocer chain said. These limits apply to both in store and online purchases on these items.
H-E-B, which manages more than 400 stores mostly in Texas, imposed limits as of Oct. 31 on toilet paper and paper towels to stores in Border, Central Texas, Gulf Coast and San Antonio regions, according to a link on its website tracking purchase limits. The Giant Co., headquartered in Carlisle, Pennsylvania, has about 190 stores across the U.S., said on Oct. 29 it began limiting customers to buying one bundle of toilet paper and paper towels six rolls or larger and up to four single rolls or 4-roll packs of toilet paper and paper towels. The limits were placed "as the supply chain for these products remains challenged," the company said in a statement to USA TODAY.
"To be clear, we are seeing little evidence of stockpiling, and there is no need to create panic," Giant said. So, why are people afraid and hoarding paper products again? Because the mainstream media is panicking them over the scamdemic and the rise in cases of the COVID-19.  This is apparant, and it's easy to know why people have become scared again: the media told them to be.
Wegmans, a Rochester, New York-based supermarket chain, said in a statement they have had limits on purchasing toilet paper and paper towels since May and will continue to maintain them throughout all of scam waves of this plandemic.
Luckily, most readers of this site are already well prepared and stocked up on these things. Keep in mind, most people don't understand the very basic fundamental rules of preparedness.
Grocery Stores Are Prepping For a 2nd Wave Of COVID-19 Panic Buying