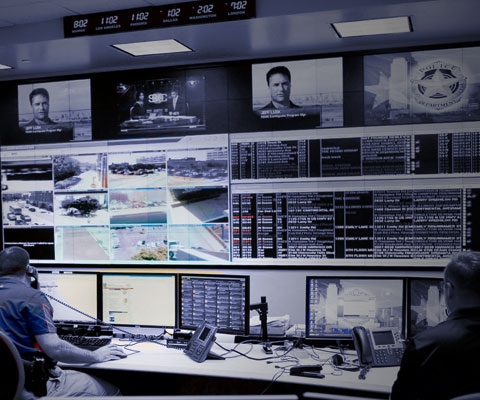 Sticks and stones may break my bones. But names will never hurt me.
That old rhyme has been conventional wisdom for those bred in common sense and thick skins. But that world is fading away.
Its replacement is a now-cemented system of political correctness, ideological division, egg shell floors and, of course, always listening, always watching "big brothers" and "parental supervisors" who keep a look out, even if they assume you are doing nothing wrong.
Be that as it may, what you say, and what is said about you is now more likely than ever to land you in trouble with the law, or disqualify you for employment, promotion, government benefits or other opportunities.
The Washington Post reports:
Perhaps the most controversial and revealing technology is the threat-scoring software Beware. Fresno is one of the first departments in the nation to test the program.

As officers respond to calls, Beware automatically runs the address. The searches return the names of residents and scans them against a range of publicly available data to generate a color-coded threat level for each person or address: green, yellow or red.

Exactly how Beware calculates threat scores is something that its maker, Intrado, considers a trade secret, so it is unclear how much weight is given to a misdemeanor, felony or threatening comment on Facebook. However, the program flags issues and provides a report to the user.

In promotional materials, Intrado writes that Beware could reveal that the resident of a particular address was a war veteran suffering from post-traumatic stress disorder, had criminal convictions for assault and had posted worrisome messages about his battle experiences on social media.

[…]

Rob Nabarro, a Fresno civil rights lawyer… said the fact that only Intrado — not the police or the public — knows how Beware tallies its scores is disconcerting. He also worries that the system might mistakenly increase someone's threat level by misinterpreting innocuous activity on social media, like criticizing the police, and trigger a heavier response by officers.

"A police call is something that can be very dangerous for a citizen."
It now matters if you are labeled by the mental health system with a "condition." It also matters what you say on Facebook to aloof "friends" – the mere suggestion of wrong-doing counts towards your score as a threat to the system.
Not only has your permanent record been kept and used against you, but the informal chatter and "keywords" that fill up the spaces of life previously reserved for leisure and private life is now fair game for law enforcement "threat assessment."
For some time now, police have followed up on threats of violence posted in comment threads, particular if they threaten violence against a high profile politician or celebrity.
But now, they are armed with the "buzz" of background minutia about a person, too – which may or may not legitimately characterize intended criminal and illicit behavior. Guilt by association prevails. Like so many other surveillance technologies, they scan in the background, with little or no presence in the lives of the people it watches.
The Washington Post gave an interesting intro to this feature piece on Beware, noting how much surveillance already goes into routine police business. Society is already in murky waters.
This is a peep into the modern day "fusion center" where associations are everything, and investigations are frequently preemptive, following profile models:
On a recent Monday afternoon, the center was a hive of activity. The police radio crackled over loudspeakers — "subject armed with steel rod" — as five operators sat behind banks of screens dialing up a wealth of information to help units respond to the more than 1,200 911 calls the department receives every day.

On 57 monitors that cover the walls of the center, operators zoomed and panned an array of roughly 200 police cameras perched across the city. They could dial up 800 more feeds from the city's schools and traffic cameras, and they soon hope to add 400 more streams from cameras worn on officers' bodies and from thousands from local businesses that have surveillance systems.

The cameras were only one tool at the ready. Officers could trawl a private database that has recorded more than 2 billion scans of vehicle licenses plates and locations nationwide. If gunshots were fired, a system called ShotSpotter could triangulate the location using microphones strung around the city. Another program, called Media Sonar, crawled social media looking for illicit activity. Police used it to monitor individuals, threats to schools and hashtags related to gangs.
One thing is certain: this is the near-future world of "Minority Report" has arrived on scene. It is already in its first phase of life, and most of the public still hasn't imagined its form or capabilities. The government they fear has dawned upon us, but its face is not the familiar one of the opposing political camp, or the aspiring totalitarian despot. It is a hive army of technological and bureaucratic soldiers, come to eat out our substance and the Declaration of Independence warned in the long-train of abuses.
The whisper campaign at its most dreadful. A world where a random police call could become a Gestapo nightmare. Where thought crimes are bred. Orwell, P.K.D., etc. were right (but what else is new?).
Read more:
NSA Insider: You Are the Target: "They're Pulling Together All the Data About Virtually Every U.S. Citizen in the Country"
Creepy Tracking Tech Gone Too Far: "Police Surveillance Now Fully Automated and Integrated Into Wireless Networks"
Fusion Centers, FEMA Camps and Martial Law: Conspiracy Fact or Theory?
Suspicious Activity Reports From U.S. Malls Being Processed By Police State Fusion Centers